Teriyaki Flank Steak with Green Onions
Ingredients
1⁄2 cup soy sauce
1⁄3 cup sugar
2 tablespoons rice vinegar
1 tablespoon fresh ginger, grated or minced
1⁄4 teaspoon red pepper flakes
1 teaspoon cornstarch
1 flank steak (about 1 1⁄2 pounds)
2 tablespoons vegetable oil
12 green onions, cut into 1-inch lengths
2 teaspoons sesame seeds, toasted
Instructions
1. Whisk soy sauce, sugar, vinegar, ginger, pepper flakes, and cornstarch in medium bowl.  (Or use a handheld blender to blend.) 
2. Pat steak dry with paper towels. Heat 1 tablespoon oil in large nonstick skillet over medium-high heat until just smoking. Cook steak until well browned and cooked to desired doneness, 4 to 6 minutes per side. Transfer to cutting board and tent with foil. 
3. Add remaining oil and green onions to empty skillet and cook until lightly browned, 2 to 3 minutes; transfer to bowl. Stir soy sauce mixture and any accumulated beef juices into skillet and simmer, scraping up any browned bits, until thickened, 2 to 3 minutes. Slice beef thin on bias against grain. Transfer to bowl (or serving platter) and toss with sauce, green onions, and sesame seeds. Serve with rice.
Note: To toast sesame seeds, cook them in a dry skillet over medium heat, stirring often, until golden and fragrant, about 5 minutes.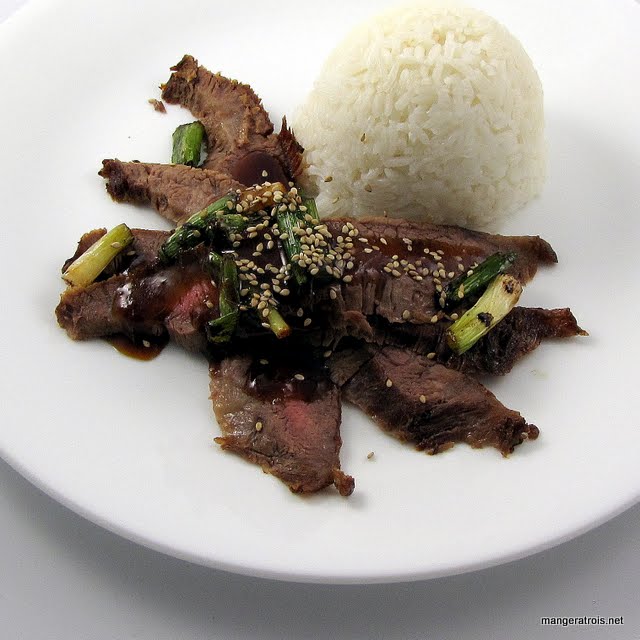 Comments
With Art being gone for most of the week, I've been trying to make things I know he'll really love on the nights he is home for dinner.  I found this recipe in the 2009 Cook's Country Annual and his commentary of how fantastic it was included expletives, so I consider it successful.  Lance and I enjoyed the meal as well and I was surprised that we had enough leftovers for even a single lunch. 
I would make a few changes in the future, I'd have been happier with twice as many green onions.  There was also enough sauce that adding other vegetables would have worked quite well too.  This was a pretty fantastic meal and it will certainly be repeated in the future.
Cook's Country 2009