Slow Cooker Asian Pulled Pork
Ingredients
1⁄4 cup soy sauce
1⁄4 cup plum sauce
1 tablespoon rice vinegar
1 tablespoon sherry
1 tablespoon sriracha
1 clove garlic, minced
1 teaspoon ginger, grated
1 teaspoon sesame oil
2 pounds pork roast
2 cups cabbage, shredded
1 bunch green onion, chopped
2 cucumbers, sliced into thin sticks
Tortillas for serving
Instructions
1. Whisk together soy sauce, plum sauce, rice vinegar, sherry, sriracha, garlic, ginger, and sesame oil.  Place pork in slow cooker then pour sauce over roast.  Cover and cook on LOW for 8 hours. 
2. Shred pork with two forks then return to slow cooker.  Cook on LOW for 15 more minutes. 
3. Serve on tortillas with cabbage, green onion, cucumber, and extra plum sauce if desired.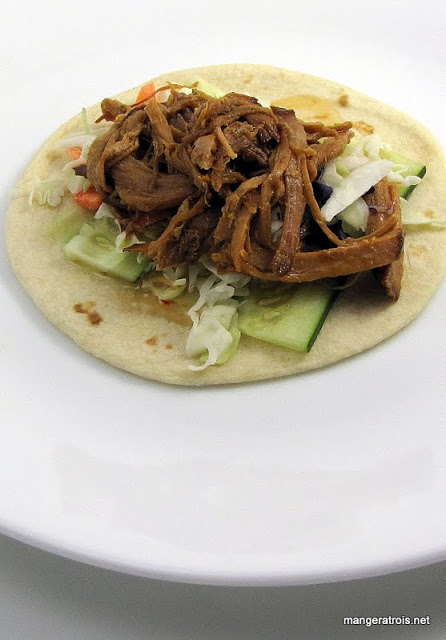 Comments
This recipe is from Branny Boils Over.  My pork roast was huge, so we had leftovers for many days.  It was all delicious.  Art preferred his over rice, Lance made his into burritos, and I had mine as described in the recipe.  This was super tasty and we all enjoyed it.