Cream Cheese and Chive Mashed Potatoes
Ingredients
6 cups potatoes (1 1⁄2 pounds), cubed
1⁄2 cup milk
8 ounces cream cheese
1⁄3 cup freeze-dried chives
1⁄2 teaspoon salt, or to taste
1⁄8 teaspoon pepper
Instructions
1. In a large pot, cook the potatoes in enough water to cover them by 1 inch. Bring to a boil over high heat. Reduce heat to medium-high and cook 15 to 20 minutes or until potatoes are fork-tender. Drain immediately.
2. Return potatoes to pot and add remaining ingredients.
3. Mash with a fork or potato masher for lumpy potatoes.  (I end up just stirring them really well with a spoon since the potatoes fall apart.  And I like lumps.)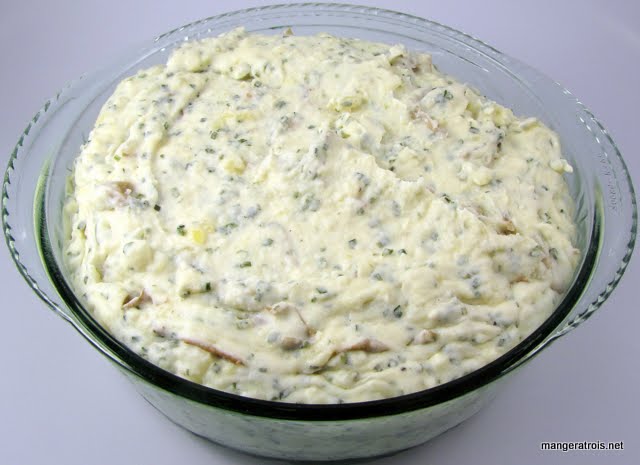 Comments
I found this recipe in one of my favorite vegetarian cookbooks – 1,000 Vegetarian Recipes by Carol Gelles.  I believe that I made it for my first Thanksgiving as an adult and I've made it almost every Thanksgiving since.  I think the only year I skipped was the year we spent with my parents in Ocean City, Maryland.  Even then we ended up doing a small Thanksgiving meal in mid-December since we missed getting to eat our Thanksgiving favorites.  
This is one of those favorites.  They're rich, creamy, and go great with turkey gravy.  If you prefer peeled potatoes, go ahead and peel them.  I prefer the little bits of peel throughout the dish.  
The serving size on this recipe claims that it serves 4 people, but I don't believe it.
1,000 Vegetarian Recipes