Earlier this year, Lance and I found out we'd be going back to Atlanta to work at an event.  I immediately went to Open Table to make a reservation at the fantastic Woodfire Grill.  This is Kevin Gillespie's restaurant and we had the pleasure of eating there in January 2011.  It's rare that we're able to be repeat customers at any restaurant outside of Indianapolis. 
I'm pretty sure they keep notes on their customers because when they called to verify the reservation they mentioned my HFCS allergy and, once we were seated, our server mentioned that she knew we didn't drink wine but asked if we'd like anything else.  That's a neat touch – to be remembered. 
We opted, again, for the 7-course chef's grand tasting menu.  We had no idea what to expect, but were happy to trust the chefs.  We were asked if we had a problem with raw fish, so that gave us a hint of what was to come.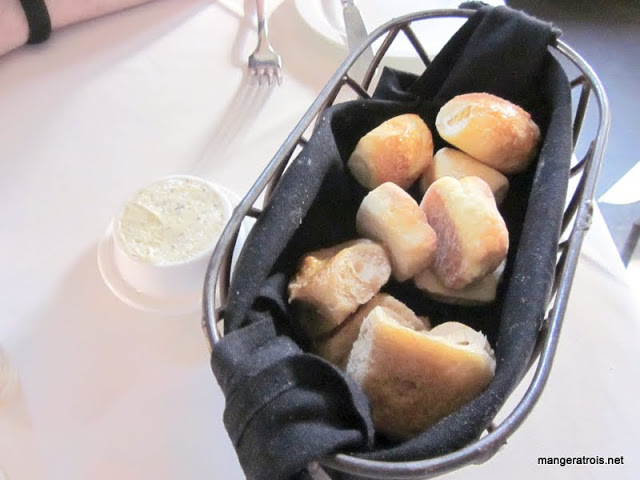 Our meal started with a lovely basket of small rolls and herbed butter.  The bread was warm and delicious.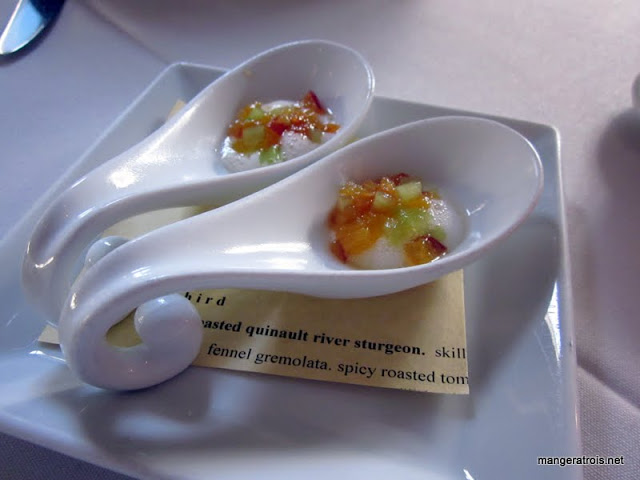 Amuse Compressed Georgia peach, cucumber, ginger ale foam.
These were like little bites of gazpacho.  Fruity, light, and refreshing.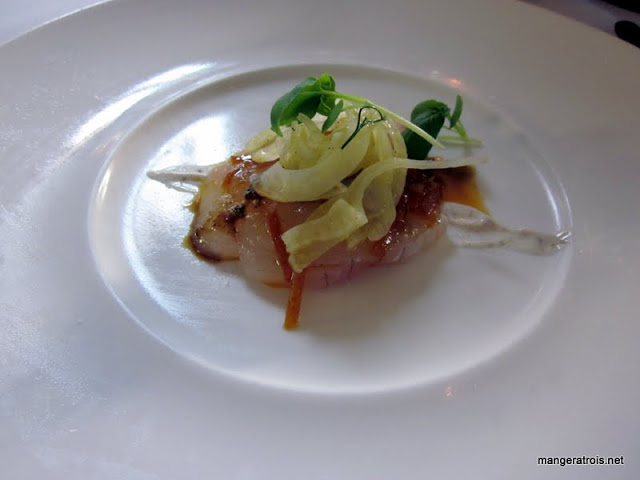 First Course North Carolina fluke crudo, caramelized orange, spiced yoghurt, roasted pistachio, pickled fennel.
This was our raw fish!  I've never had fluke and it was tasty.  I did find the orange zest strips to be a bit unbalanced, but every other bite was great.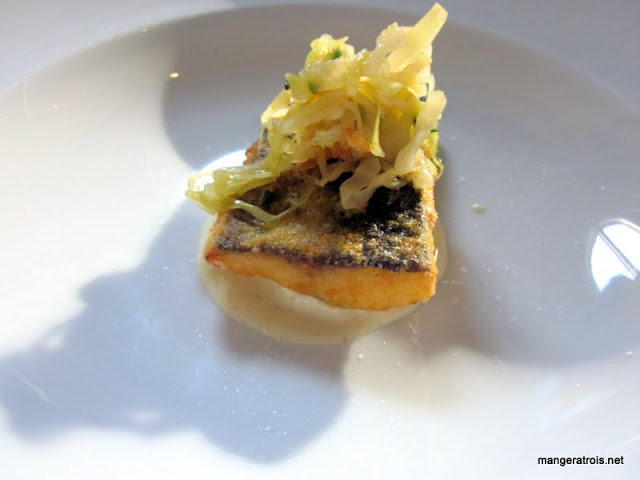 Second Course Crispy north Carolina trout, spicy chow chow with pork rinds, Alabama white barbecue sauce.
This trout was delicious.  I could have eaten an entire meal just of it, in fact.  The crispness was thanks to a very light cornmeal coating and the other components worked very well together.  I especially enjoyed the white barbecue sauce.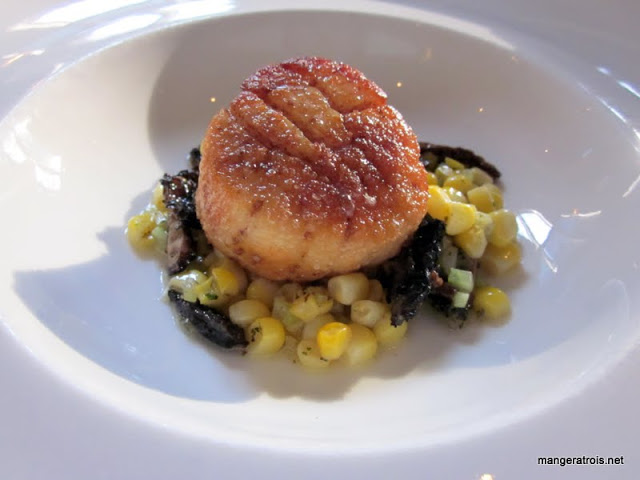 Third Course Pan seared georges bank scallop, sweet corn with morel mushroom ragout, celery, sweet herbs.
This was a HUGE scallop that was seared to perfection.  I'm not a scallop lover, but the ones I've had at Woodfire make me think I should be.  The sweetness of the corn was awesome and I was thrilled to have morels for the first time.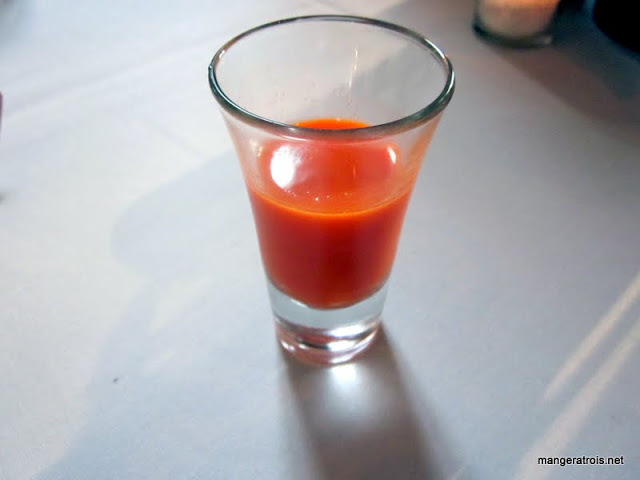 Taste Chilled carrot ginger soup with fresh orange
Our "intermezzo" in a shot glass.  It was shocked at how clearly all three of the components came through.  I could really taste the orange, the ginger, and the carrot. 
Fourth Course Wood grilled plantation quail with caramelized honey-nectarine glaze, roasted turnips, local haricot verts, toasted pecans.
I should note that they gave us a menu to take home, so I'm not writing all of this down from memory!  We had quail last time at Woodfire, so I was happy to get it again.  They're super teeny and mostly boned aside from the legs.  The quail was very tender and the green beans were great too!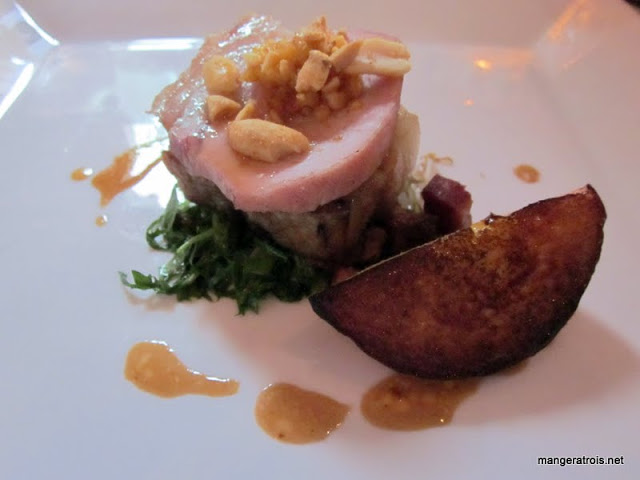 Fifth Course Smoked pork loin and slow cooked pork belly, charred Georgia peach, roasted frisee, braised house made pepper bacon, spicy peanuts, peach quince agrodolce.
The pork course!  Pork belly really is this amazing, meltingly delicious thing of beauty.  The bacon was pretty grand too, nice and peppery.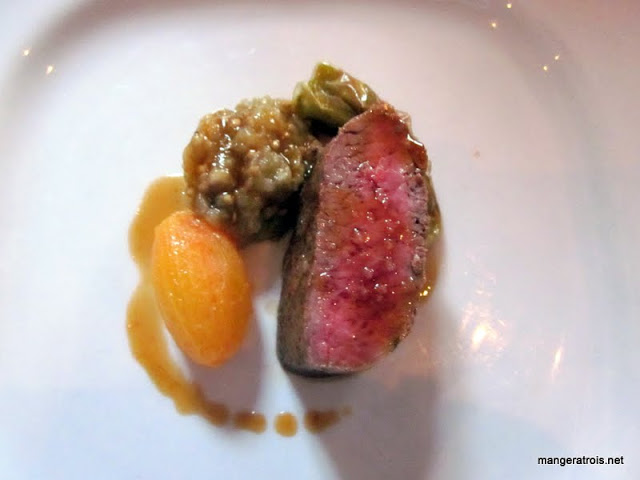 Sixth Course Wood grilled all natural lamb loin, slow roasted eggplant, braised plum tomatoes, skillet fried shishito peppers, sauce bercy.
It's interesting that we didn't have any cow during the tasting menu, but I'm always happy to get lamb instead.  What a super flavorful few bites this was and it came with a peeled eggplant and tomato bite as well.  I admit, I was hoping for more tomatoes, but I'll take what I can get!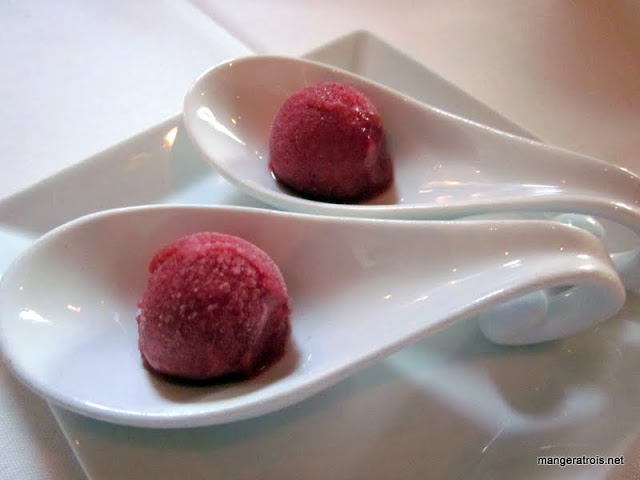 Pre dessert Raspberry sorbet
WOAH, super raspberry.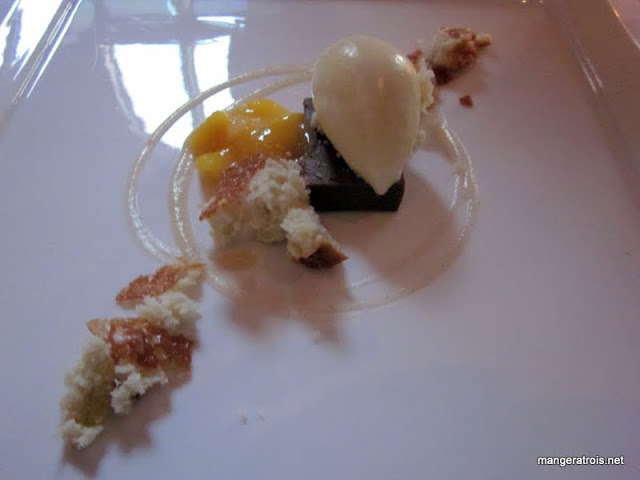 Dessert Valrhona caramelia milk chocolate, buttermilk ice cream, crushed peaches, buttermilk cake, white peach fluid gel, peanut crisp.
This was like a deconstructed peach shortcake with a chocolate caramel.  The caramel was like the absolutely perfect, soft Tootsie Roll.  The ice cream had a great buttermilk tartness to it and the peach was delicious too.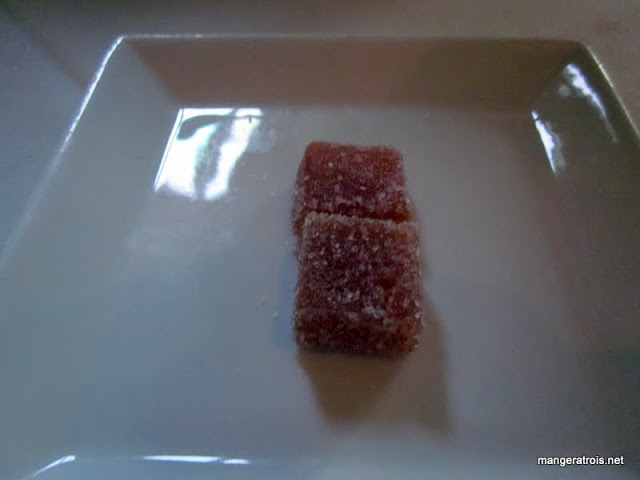 I didn't try one of these since they're mango, which I shouldn't eat, but they reminded me of Turkish delight in texture.  Lance thought it was fine. 
This was a lovely, lovely meal.  The service was phenomenal, every course was perfectly paced, we were never without almost full glasses of water and every dish was presenting knowledgeably and thoroughly.   I also think that this is a very reasonably priced tasting menu – if you're ever in Atlanta, I recommend that you stop by. 
Total price, no alcohol, including tip: Around $240
Woodfire Grill
1782 Cheshire Bridge Road
Atlanta, GA 30324
Reservations: 404.347.9055