On Wednesday evening, Lance and I had the pleasure of dining at Le Cirque in the Bellagio.  Las Vegas is one of the few cities in the US that has Michelin rated restaurants and, while planning our meals for the trip, eating in one was a goal of ours.  We had initially planned to eat at Picasso but, after seeing their menu, it didn't appeal to us as much as it should have.  We switched our reservation to Le Cirque and there is no question that we made the right choice.  I think it's safe to say that it was the best meal of my life until now.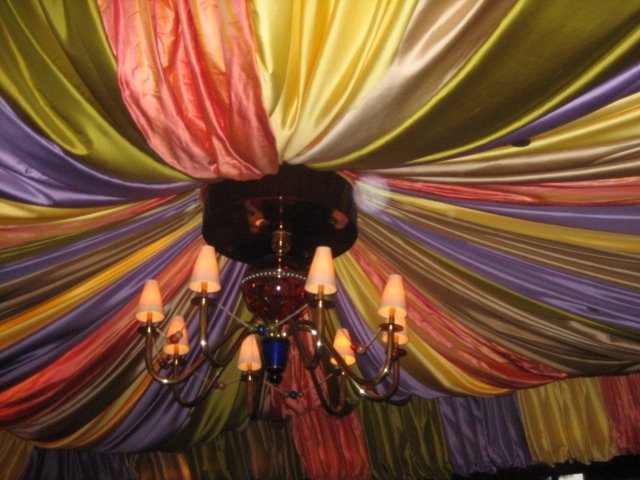 The restaurant itself was on the small side, there were only 19 tables.  One side of the restaurant had windows that looked out over the Bellagio's fountain display.  The rest of the walls had circus themed artwork, and the ceiling was stylized like a circus tent.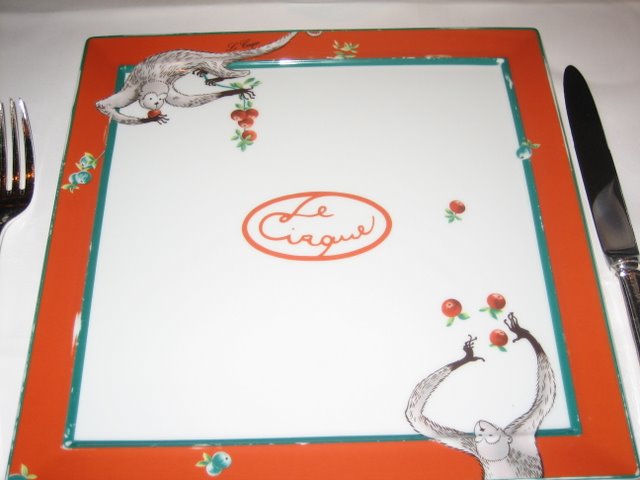 I found the plates to be quite pretty, so I took pictures of those as well.  
The menu presented us both with some hard choices.  Lance opted for an appetizer, main course, and dessert, but after careful consideration, I went with the degustation menu.  This was a 5 course meal that included an amuse-bouche, "pre-dessert" and dessert.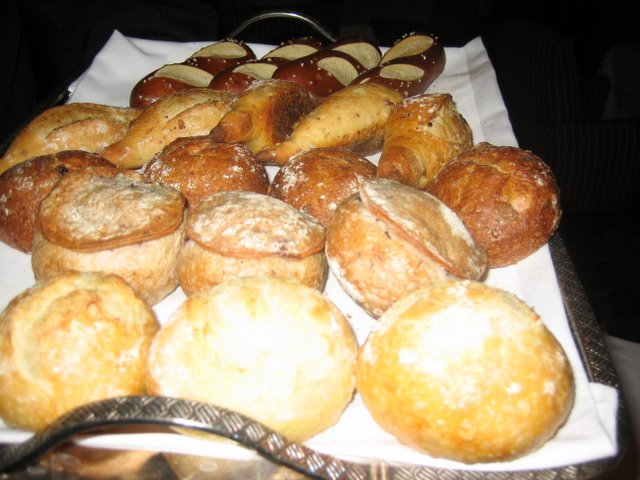 But first, we got rolls.  Lots and lots of rolls.  Starting at the bottom and going up, the options were French rolls, olive rolls, something that I can't recall, bacon and onion rolls, and pretzel rolls.  Between the two of us, we tried everything except the middle bread.  Each was perfect.  The butter on the table was stamped with the Le Cirque logo.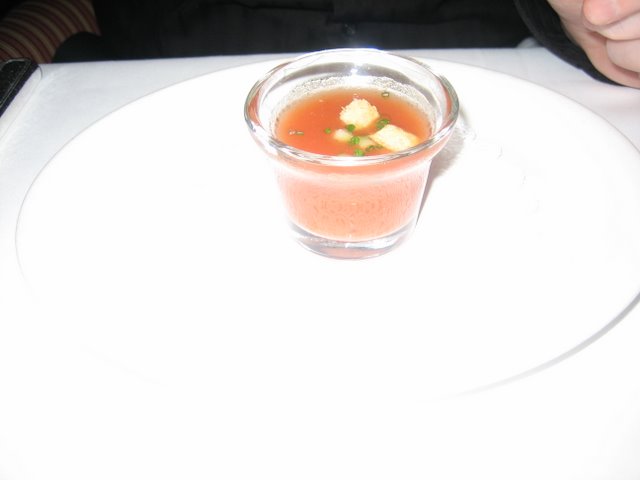 We each received an amuse-bouche.  Lance's was a fresh gazpacho and mine was an oyster topped with caviar.  I was envious of the gazpacho since I'm not a huge shellfish fan and oyster is especially shellfishy.  It was tolerable with a bread chaser.  I'm sure an oyster lover would have enjoyed it much more than I did!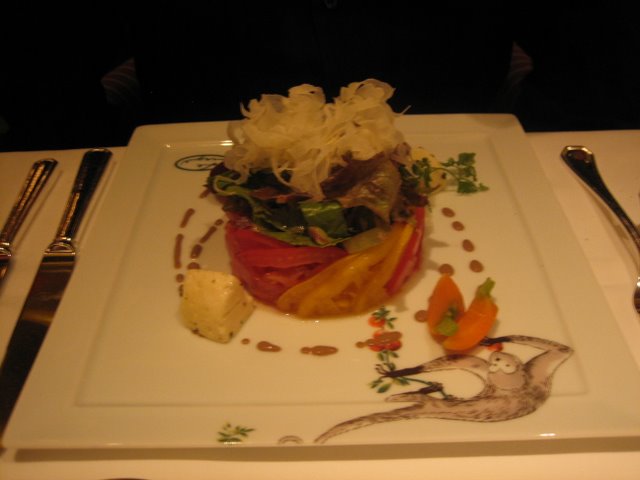 Our first courses were served at the same time.  Lance ordered the Petit Mesclun de Salade which was organic mixed greens, heirloom tomatoes, and Crotin de Chavignol which is a type of cheese.  Shaved fennel tops the entire thing off.  The tomatoes are thinly sliced and wrapped around the salad in a beautiful and colourful presentation.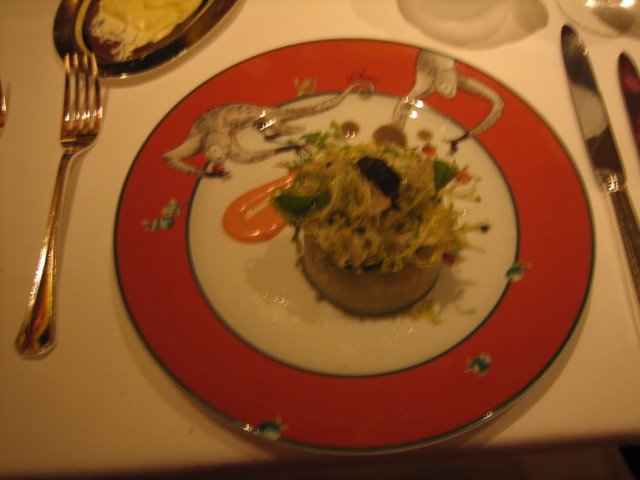 My first course was the Lobster Salad "Le Cirque."  I really needed better lighting for these pictures because none of them do the food justice.  This salad was wrapped in thinly sliced cucumber and, hidden within the cucumber, was a mixture of greens, diced haricot verts, avocado, cucumber, and three chunks of lobster.  The salad was extremely light and refreshing.  I would have never thought to combine all of those ingredients, but it worked perfectly.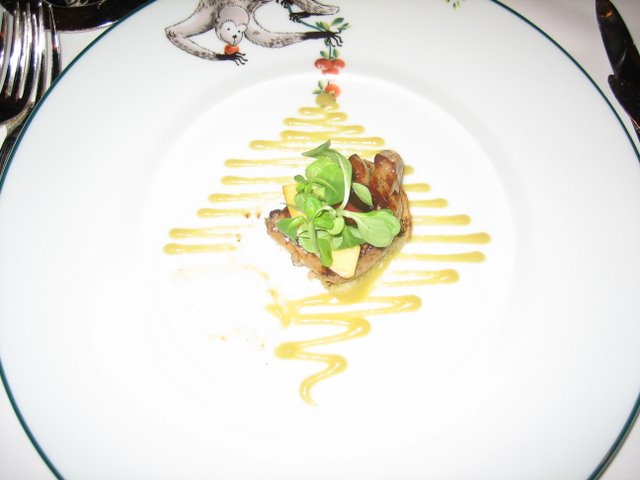 Then Lance got to watch me eat for a few courses.  This is Sautéed Foie Gras, Candied Cherry, Peach, Late Harvest "Verjus."  It's served on top of brioche and, sadly, I had a taste before I remembered I needed to take a picture!  I've only had foie gras once before and I was not very impressed.  This, however, was amazing.  It melted in my mouth like butter.  The verjus is a reduction of grape juice and I had to fight the urge to lick the plate when I was finished.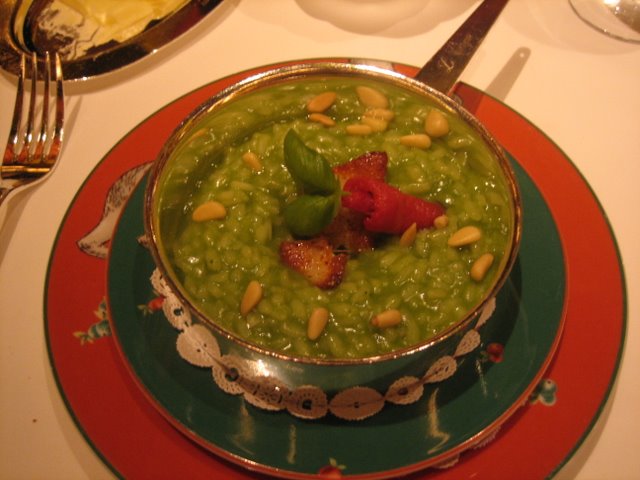 Next I had Pesto Risotto with Diver Sea Scallops, Tomato and Basil.  It also has pine nuts scattered on the top.  Phenomenal.  Eating this made me want to rush home and figure out how to make pesto risotto in the privacy of my own home.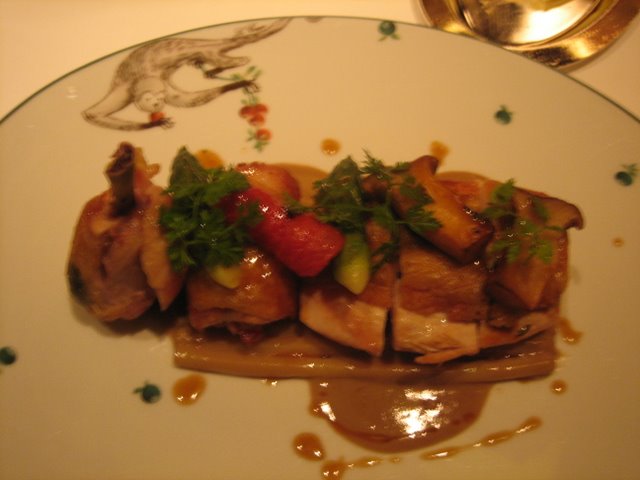 Our next course was served at the same time.  Lance had Poulet Rôti Contiser à la Truffe Noire which was roasted organic chicken, summer truffle and long macaroni noodles with a foie gras sauce that filled the pasta.  It had mushrooms and some tomato on the top.  While you can't tell from the picture, on the right side was light meat and the left side was dark meat.  The chicken was amazingly moist and Lance declared it the best of his life.  He generously shared a taste with me and it was pretty fantastic.  The skin was nice and crispy as well.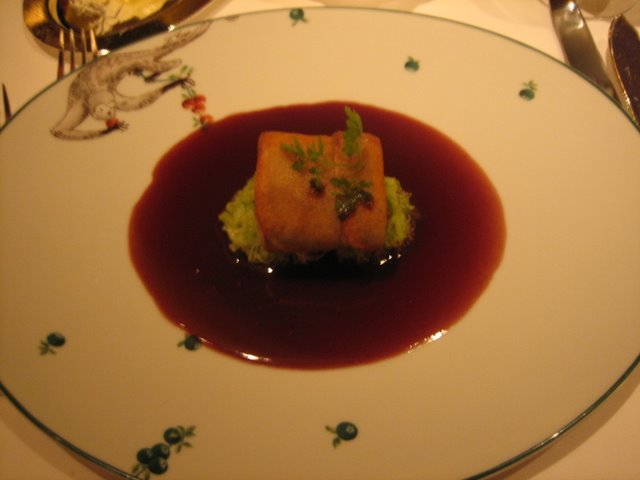 I got the Paupiette of Seabass with Braised Leeks and Pinot Noir Sauce.  I'm pretty sure this is one of those dishes that I've seen on Top Chef.  It's sea bass wrapped in a very thin layer of potato that is then cooked somehow to get nice and crispy.  Beneath the bass were braised leeks and a rich pinot noir sauce.  Sea bass, like foie, is something I've eaten before and haven't been impressed with.  I now understand why so many people love it, when prepared correctly, it's just awesome.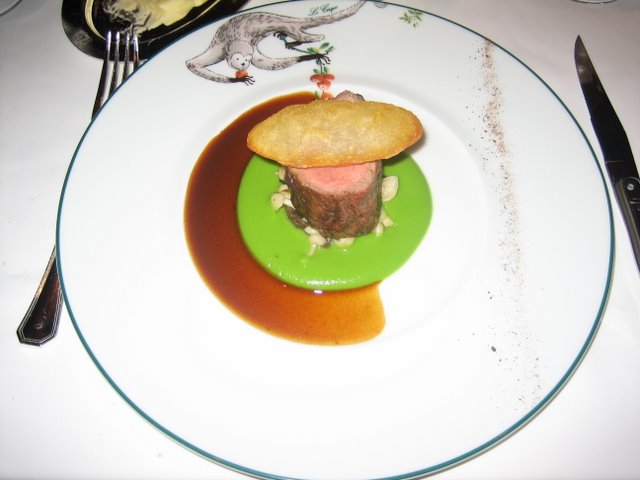 My next course, and the only one for which I had a choice, was Colorado Lamb Loin, Cocoa Nibs, Peas Mousseline, and Potato "Souffle."  The other option was Kobe steak but, having had it the night before and being a lover of lamb, this was an easy decision to make.  The potato thing on top was hollow and crispy.  The shadow on the right side of the plate was the cocoa nibs.  The green underneath the lamb was the peas mousseline and you can see white mushrooms between the lamb and peas.  The lamb was medium rare and absolutely delicious.  Again, I wanted to lick the plate to get all of the rich sauce.  But I behaved.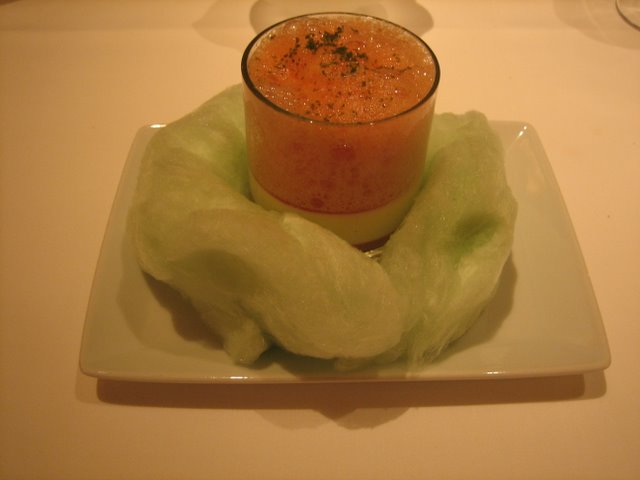 Ah, dessert.  Lance and I both received the dessert menu and made our choices.  Then I was informed that I would be getting a "pre-dessert."  I tried to talk my waiter out of it but he insisted that I try so I capitulated.  I was getting fairly full at that point, you see.  I am so glad the waiter won because this was yet another outstanding dish.  The glass is surrounded with lime cotton candy.  The layers are, from top to bottom, blood orange foam, panna cotta, and then blood orange gelee which you can just barely see at the bottom.  Between the foam and panna cotta was a dollop of meyer lemon sorbet.  This might have been the best dessert in my life.  I might attempt to cook panna cotta myself in the future.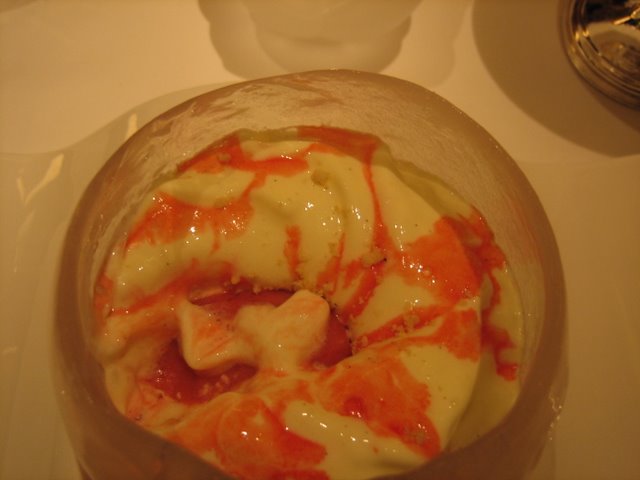 Our "main" desserts were served together.  Lance got the Fraise Pochée à La Vanille, Crème au Yuzu, Streusel Croquant.  This was a vanilla poached strawberry with yuzu cream and vanilla ice cream.  It was served in this amazing bowl made of ice that kept the dessert chilled while you ate and melted if you left your spoon resting on it for too long.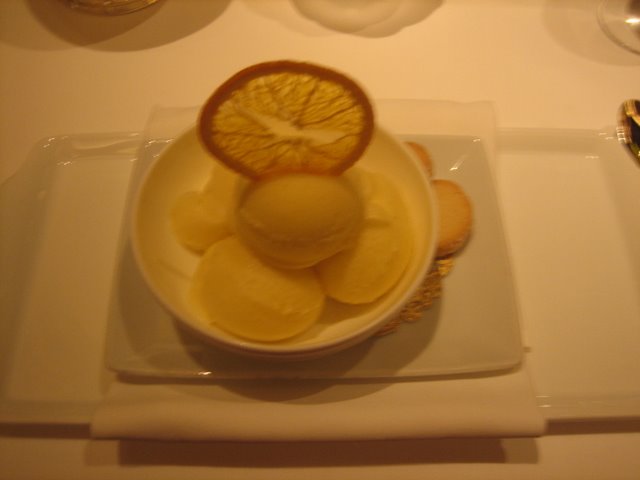 My dessert was a humongous bowl of pineapple sorbet.  After all of the rich food I wanted something light and palate cleansing.  I had no idea that there would be so much of it!  I ate about a scoop and a half and the two shortbread rounds that you can see peeking out from underneath the bowl.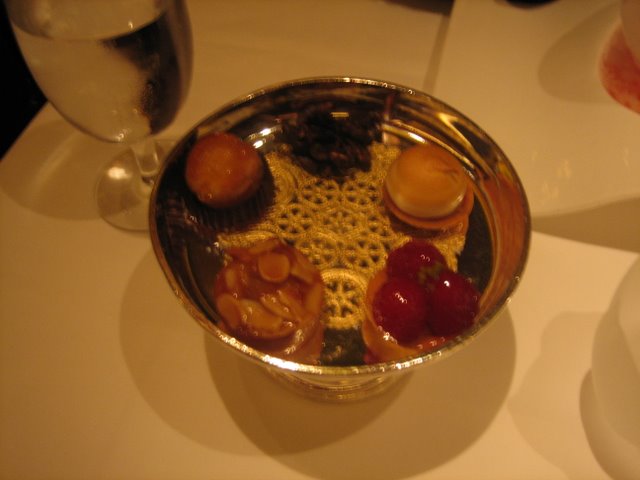 We also got a plate of petit fours.  There was a marshmallow in the middle but Lance ate it before I could take the picture.  I can't vouch for their tastiness since I was too full to attempt to eat any of them.
This meal was amazing.  The service was perfect although I'm sure we made the sommelier sad by sticking with water only.  Once the waiter saw me pull out my notepad to take notes during the meal, he asked me if I wanted a copy of the degustation menu to take my notes on.  How awesome was that?  Our water glasses were always full and all the staff at the restaurant was attentive to our needs.  
The silverware was also amazing.  Each course came with 2-3 new pieces of silverware and, if necessary, an explanation of why I was getting each piece.  (A knife for risotto?  Apparently it was to cut the scallop.)  
If I ever have the chance to eat at Le Cirque again, I will, without hesitation.  The food was fantastic, the service was flawless, and it was a very comfortable experience overall.  I've talked with many people who fear fine dining because they worry they'll feel out of place.  This was a very easy and comfortable meal, it left us both feeling completely satisfied.  
Total price, including tip: $311.48
Le Cirque
Bellagio
3600 Las Vegas Blvd South
Las Vegas, NV
Reservations: (866) 259-7111