In March, Lance and I had the pleasure of working at an event in the Gaylord Opryland in Nashville, TN.  This is an amazing place.  It's the largest non-casino hotel in the US and covers about 9 acres of land.  Inside, in addition to the rooms, convention rooms, shops, and restaurants there are also rivers, waterfalls, plants, and fish.  It's a gorgeous space. 
The one downside is that once you're in the biodome, you're sort of stuck there due to the size of the venue and the size of the grounds surrounding it.  As a result, we ate all of our meals within the hotel.  The good side is that our meals were super tasty.  The bad side is that our meals were also super expensive.  I'm going to combine them in this one post instead of making a separate post per meal – two of our meals were quite brief!
Lunch at Wasabi's Sushi Bar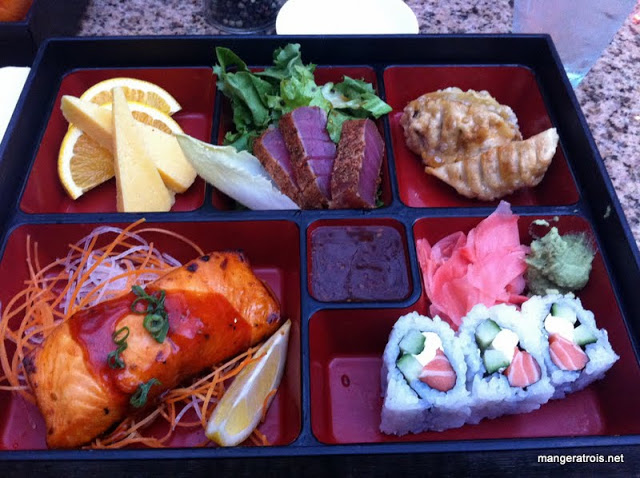 Salmon Teriyaki Bento Box With California Roll, Gyoza, Tuna Tataki, Tamago Nigiri, and Citrus
We got to the venue early enough that we hadn't eaten lunch yet, but not late enough that we were ready for our dinner reservation.  Lance suggested that we hunt down lunch and shift our dinner reservation to later in the evening.  I opted for Wasabi's since we'd passed it on the way in and it looked like it had a tasty menu.  Lance isn't a huge lover of sushi but, thankfully, there were bento boxes on the menu.  He and I both had the same one and it was the best bento boxes I've ever had. 
We were able to swap out the California Roll with my favorite, the Philadelphia Roll.  The chef let us do this because we were both ordering the same thing.  The tamago was lovely, the gyoza were crisp and full of great flavors, and the tataki rocked.  The downside of this meal is that it was $60 for the both of us.  Gulp! 
Dinner at Old Hickory Steakhouse Restaurant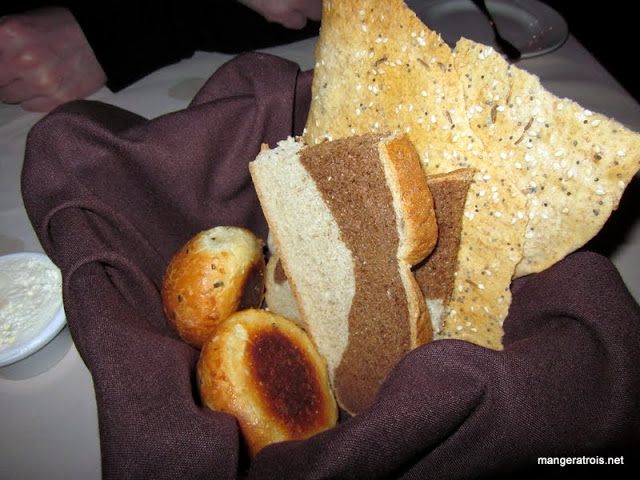 Breads
This meal started out with an assortment of breads and some crispy rosemary cracker things.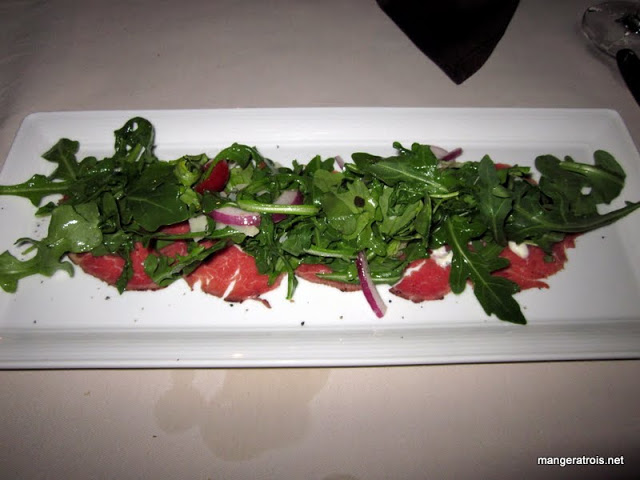 Black & Blue Beef Carpaccio Arugula salad & cracked pink peppercorns
We started off our meal with this carpaccio appetizer.  I've never had carpaccio before so I was eager to try it.  The presentation made it more like a salad with some carpaccio accents – we would have liked more carpaccio with our arugula, but it was still delicious.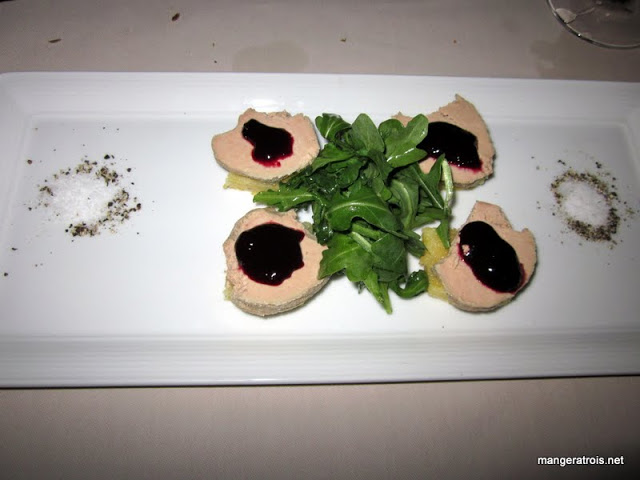 Foie Gras Torchon Reisling-poached duck foie gras, lemon cornbread cake & blackberry jam
Then we shared the foie appetizer.  It was very different from the other foie dishes I've had in restaurants and seemed more like pate to me.  It was also very sweet due to the jam and cornbread.  This almost felt like a dessert dish than an appetizer, but it was certainly tasty.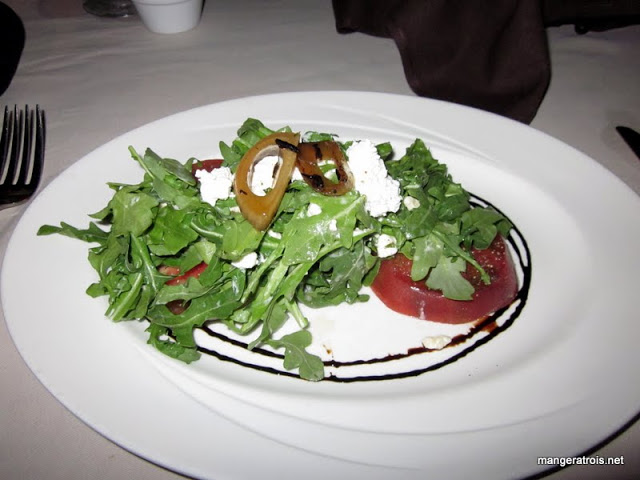 Tomato Salad Heirloom Tomatoes, Arugula, Goat Cheese, Charred Onions, Tomato Vinaigrette
My salad featured yet more arugula.  I swapped out the blue cheese for goat cheese, since I'm a fan of the latter and not the former.  It was a very tasty salad and the tomatoes were great.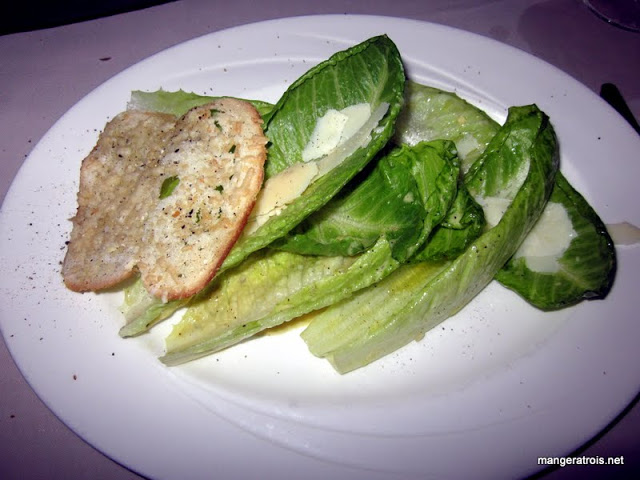 Old Hickory Caesar Hearts of Romaine, Creamy Garlic Dressing, Sour Dough Crisps
Yet another restaurant that falls prey to uncut salad – Lance's pet peeve in a salad.  He still enjoyed it but how much can you really say about a Caesar salad?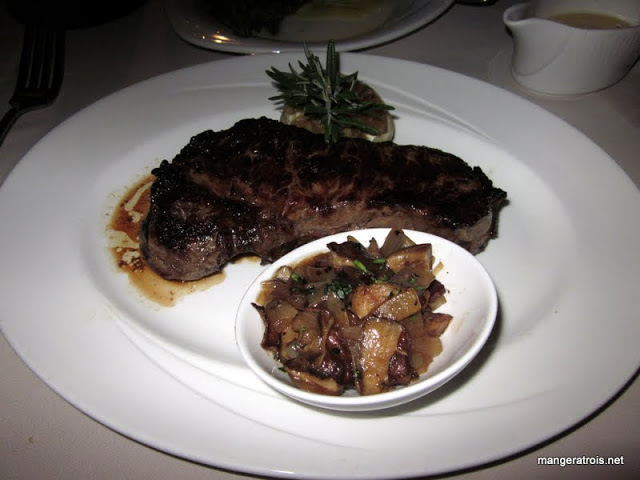 NY Strip With Shiitake Mushroom and Bacon Ragout
I opted to be different and order a NY Strip instead of my usual filet mignon.  I think I did this because I wanted a change and because the filet seemed small so I knew that Lance would be happy to share the strip with me once I ate what I wanted.  It was great and the ragout/jam type topping was nicely flavored.  It also came with a head of roasted garlic.  Yum.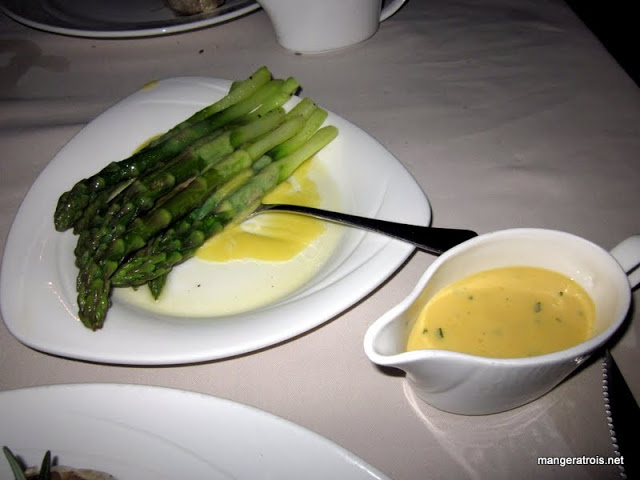 Asparagus & Hollandaise Sauce Sauce Foyot
Yet again, I ordered asparagus since I'm really loving it these days.  This asparagus was delicious and came with a great hollandaise sauce.  My steak also came with Sauce Foyot which was a nice one for me.  It's a béarnaise sauce with meat glaze added and also went nicely with the asparagus.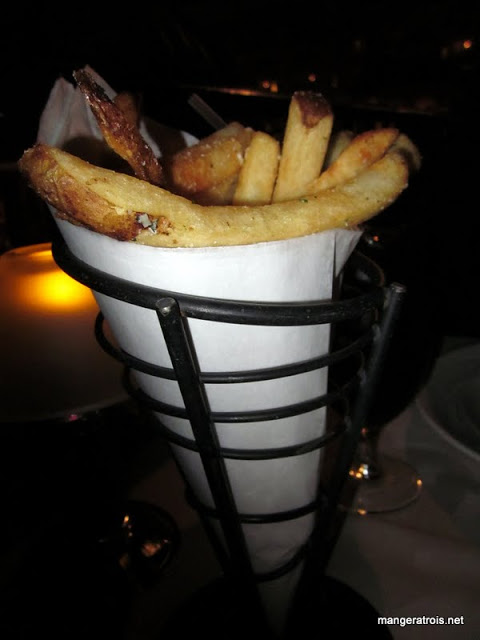 Fries
These need no explanation, they were tasty!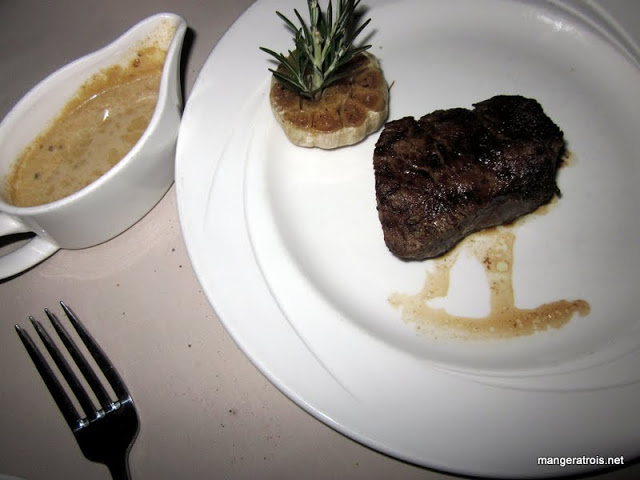 Filet Mignon Peppercorn Sauce
Lance ordered the filet with the peppercorn sauce and loved it.  He thought the sauce was great and he's not normally a sauce person at all.  His steak also came with a head of roasted garlic.  Yum. 
We opted to skip dessert here, since none of them were a) appealing or b) nut-free.  We did end up getting ice cream at the Haagen Dazs place on the island across from our table.  Not a bad way to end a meal. 
This was a really great place to eat a meal.  The restaurant was in the middle of the biodome and our table was in the "outdoor" eating area.  Even though we were technically inside, we had streetlights and the sound of waterfalls to go along with our meal.  Very pleasant atmosphere, enjoyable meal, and great service.  I'm pleased with our choice to dine here.
Breakfast at Cascades American Café Restaurant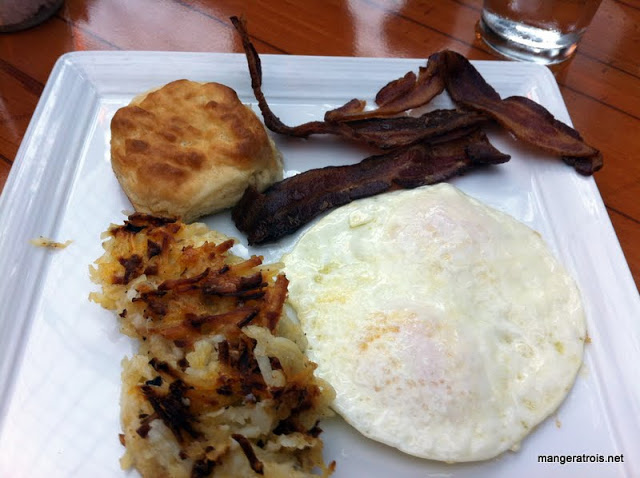 The Cascades All-American Two Eggs, Cooked to Order, Fresh Biscuit, Crispy Potatoes, Bacon
In my day to day life, I'm not a big breakfast eater, but, as I tell people when I'm working events, it's the most important meal of the day because it's the only one I can ensure that I get.  Lance and I both ordered the same thing and it was a tasty, if standard, breakfast.  There were koi swimming next to our table which made it very pretty. 
Other Meals
I have no pictures of other meals, but we did eat them!  We tried out Fuse Sports Club for dinner and we ordered extra food to keep in our room fridge for breakfasts.  We also got lunches from Stax Burgers and Paisano's Pizzaria. 
Overall, the food at the Gaylord Opryland was great and of all the places to be stuck, you could do much worse than here! 
Total price: lots.
Gaylord Opryland
2800 Opryland Drive
Nashville, TN 37214
Phone: 615.889.1000