I should have written this up right after we went, but, for whatever reason, I put it off.  Now, of course, my memories are dated!  My goal for 2012 is to get into the habit of reviewing restaurants in a timely manner.  Lance and I were in Philadelphia for a weekend event at the end of September/beginning of October and I was happy to be able to secure reservations for Morimoto – he has always been one of my favorite Iron Chefs!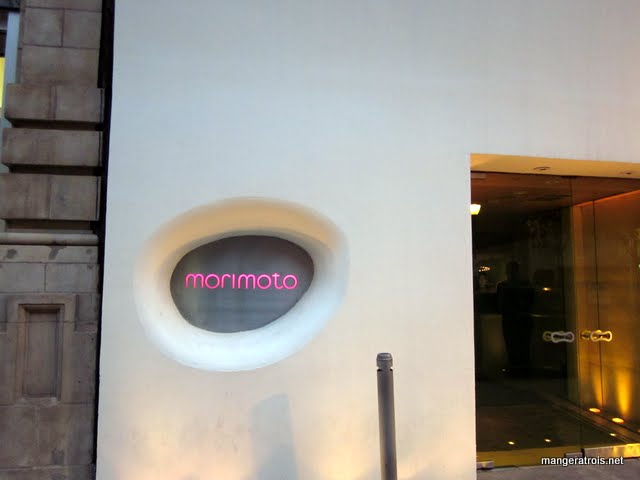 I was pretty surprised by how modern Morimoto was.  I didn't really know what to expect, but I guess I was thinking it would be more traditionally style.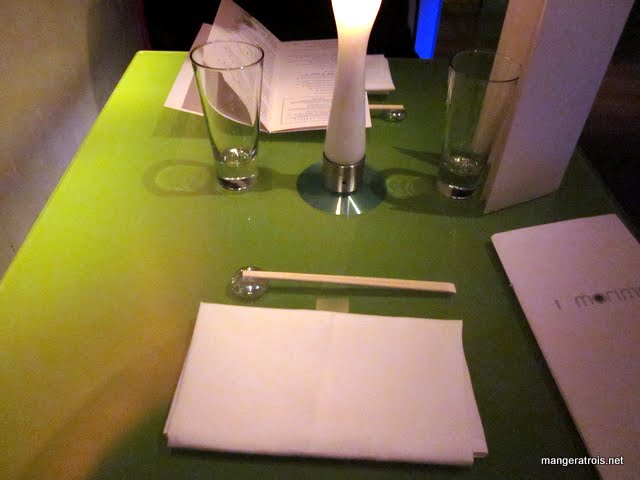 Inside the tables were glass, the walls were color-shifting, and the music was techno.  The restaurant is long and narrow with tables for two down each side and tables for four or six down the middle.  The bathroom, which was awesome, was downstairs and there was a bar with an observation deck upstairs.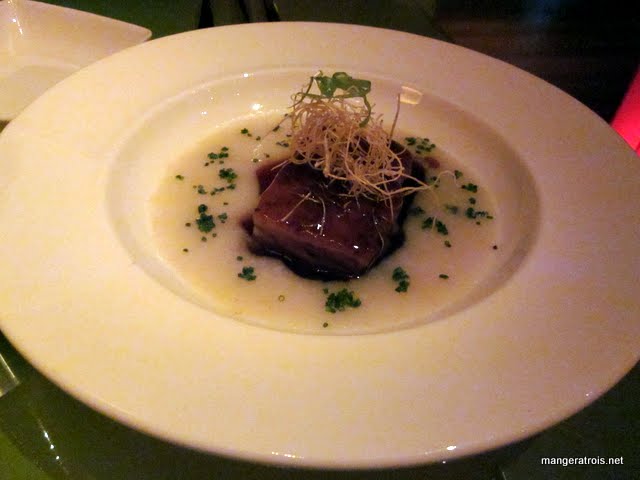 10 hour pork 'kakuni' braised pork belly with hot rice porridge We started off with this braised pork belly that was awesome.  It melted in our mouths and was served over congee so broken down it was a delicious sauce.  I actually have the recipe for this in a Morimoto cookbook and hope to attempt to replicate it at home some day.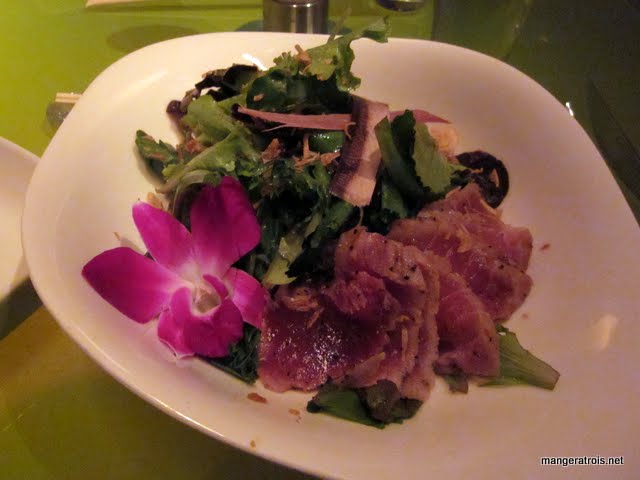 sashimi salad mixed greens, tuna tataki, shoyu dressing I won the salad course with this fantastic sashimi salad.  The tuna was amazing and the dressing had fantastic flavor.  Both salads were topped with huge bonito flakes.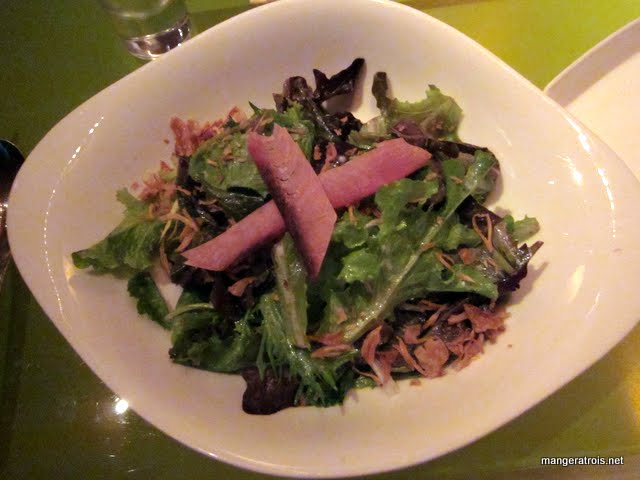 house green salad shaved bonito, yuzu vinaigrette Lance's salad was not quite so awesome although the vinaigrette was lovely and citrusy.  He should have ordered the sashimi salad and just given me the tuna.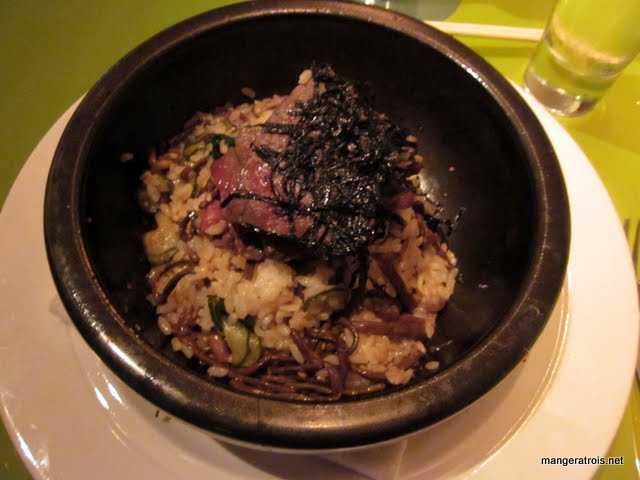 ishi yaki bop rice dish prepared at your table in hot river stone bowl with kobe beef
Lance ordered the ishi yaki bop which was prepared tableside in a super hot stone bowl.  I tried to take a few pictures of it during assembly, but they didn't really turn out.  The entrée was pretty nifty – beautiful thinly sliced kobe over veg, rice, and an egg.  The searing hot stone bowl cooked the meat to perfection.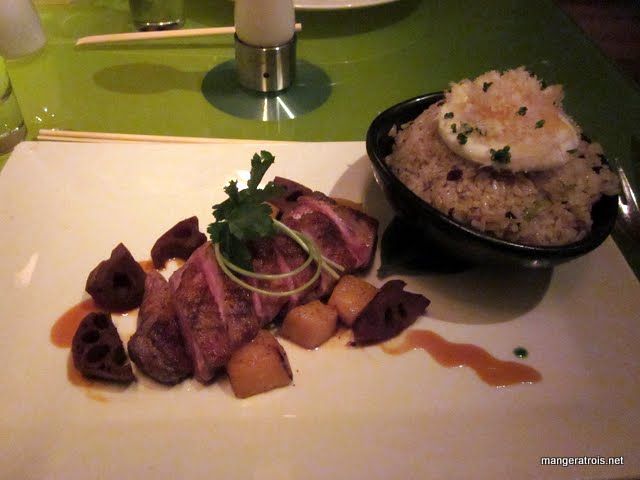 duck duck duck madras roasted duck breast, duck confit fried rice, duck egg, mandarin oolong reduction
I ordered duck.  Lots and lots of duck.  The dish was fantastic and had little currants which added a bit of a fruity taste.  The fried rice was phenomenal and the duck breast was prepared perfectly.  Sadly, it also had bits of mango which I can't eat – those weren't listed in the menu.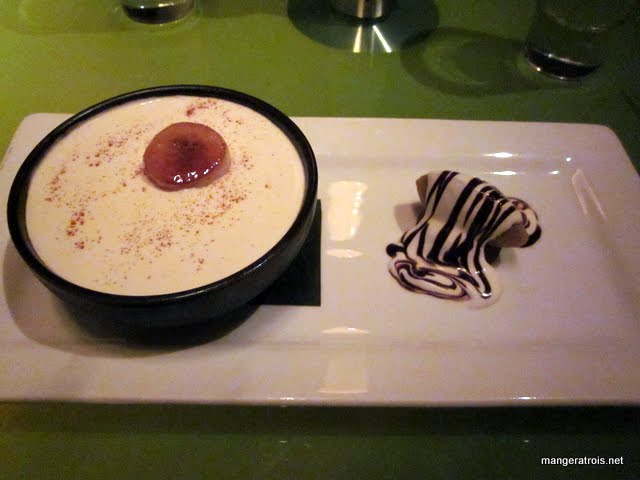 chocolate pot de crème chocolate custard, caramelized banana, lightly whipped cream This was a perfect bowl of thick, rich, delicious chocolate mousse.  Well, not mousse.  It had the texture somewhere between mousse and pudding.  I was too full to eat it all, but I did my best!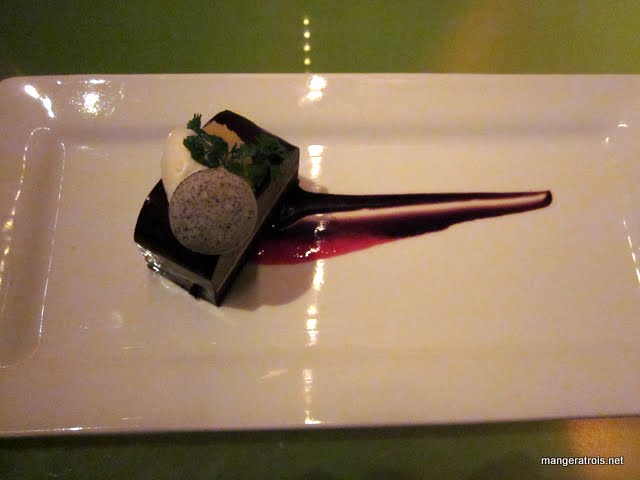 black sesame moussecake goma mousse, sea salt mousse, flourless chocolate cake, dark chocolate ganache Lance had a teeny, tiny chocolate cake.  It was good, but a bit odd.  He helped me finish off my dessert. 
The service was really fantastic – we felt well taken care of with the crew of servers but not overcrowded.  If scheduling works out I hope to return here with Art sometime in 2012!
Total price: $177.96
Morimoto
723 Chestnut Street
Philadelphia, PA 19106
Phone: 215.413.9070