Slow Cooker Roast Chicken with Crispy Skin
Ingredients
1 whole chicken, giblets removed (I have a round 5-quart slow cooker and I can just manage to fit a 7 pound chicken into it.)
2-3 tablespoons seasoning of choice (I'm a fan of McCormick's Low-Sodium Montreal Chicken.)
Instructions
1. Tear off two pieces of heavy duty aluminum foil, about 3 feet long.  Fold each piece in half lengthwise and press into the slow cooker to form a sling.  The ends of the aluminum foil should hang over the sides of the pot.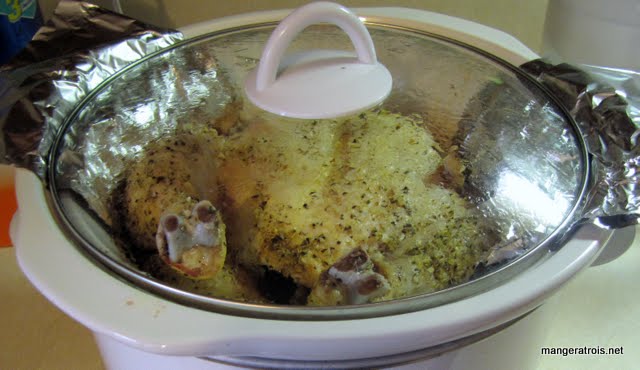 2. Season chicken well, inside and out.  Place chicken breast side up in slow cooker on top of foil sling, cover, and cook on LOW for 6-7 hours.  
3. Preheat oven to 500*F.  Remove chicken from slow cooker using the foil sling and place on rimmed baking sheet.  

4. When oven is preheated, roast chicken for 20 minutes or until the skin is nice and crispy.  
5. Remove from oven and allow to rest for 10-15 minutes before carving.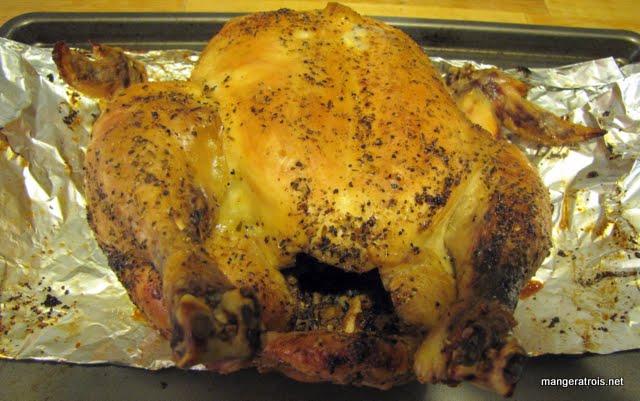 Comments
I've roasted chicken in the slow cooker many, many times and have always been thrilled with the results.  However, the skin is never crispy like you'd get with an oven roasted chicken.  Finishing the chicken in the oven seemed like a great plan, but whenever I cook a chicken in the slow cooker it's always falling apart and would be impossible to move to the oven for further cooking!   
Inspiration hit in the form of aluminum foil.  Placing the chicken in a sling in the pot makes removing it from the crock a very simple task and, from there, it's a quick 20 minute roast to crisp up the skin.  We were all very thrilled with the results.  Nice crispy skin and no hassle roasting in the pot.  
Make sure to save, boil, and strain all the delicious juices that accumulate in the bottom of your slow cooker.  They make a fantastic soup base!  If you're home during cooking, you can pour the liquid out at the 3-4 hour mark.  The foil sling is helpful with this part as well.
Person - Gwen