A few months ago, Lance read about a restaurant in Oslo called Maaemo.  In March 2012 it was awarded two Michelin stars.  This is the first time a Nordic restaurant has received two stars right off the bat in its first inclusion in the guide.  The restaurant focuses on local ingredients and certainly falls into the category of modernist cuisine.  We had been bouncing around the idea of fine dining while in Norway and this announcement seemed like a good sign. 
Lance worked hard to secure us a reservation and we were thrilled to be able to dine at Maaemo on May 30th, one of the last days of our trip.  Lance's dad was kind enough to drive us to the restaurant, but, since it's right across from the bus terminal in Oslo, we took the bus back to the house after our meal. 
I'm hoping the pictures will do a lot of speaking for themselves because I can't possibly do this meal justice with my words.  It was just too amazing and complex and astounding.  This certainly counts as the most dramatic culinary experience of my life.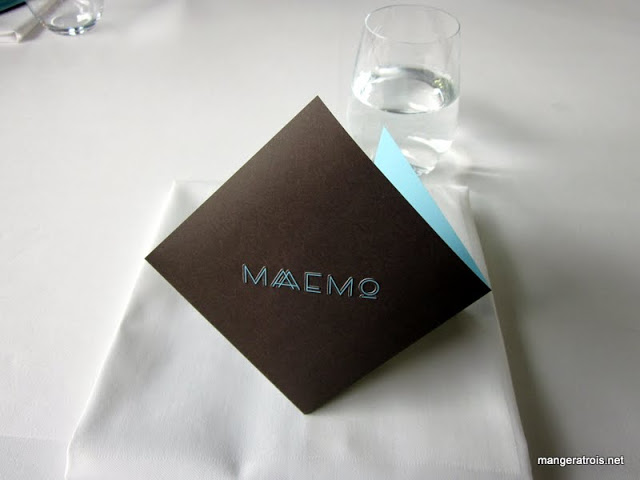 We were greeted by our menu, a napkin, and a water glass.  The menu was a square of paper, folded up.  (I'm going to deviate from my usual review pictures and use larger ones here.)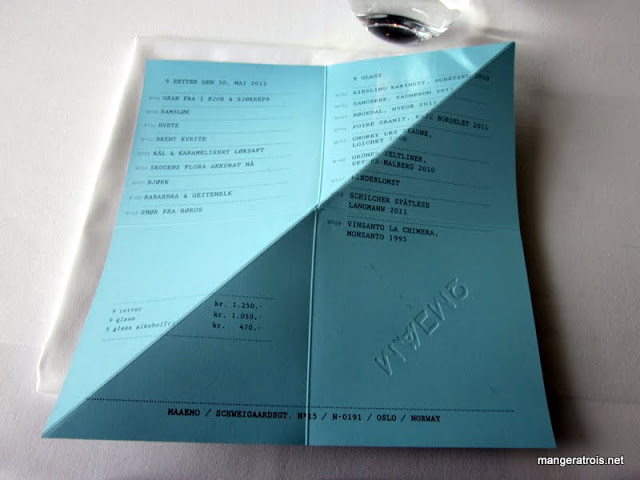 Unfolded, it listed the names of our nine courses as well as the alcoholic drink pairings, and the pricing.  There was also a non-alcoholic drink pairing but the names of those drinks weren't listed.  I opted for water, since we knew most of the non-alcoholic drinks were juices, but Lance went with the non-alcoholic drink pairing.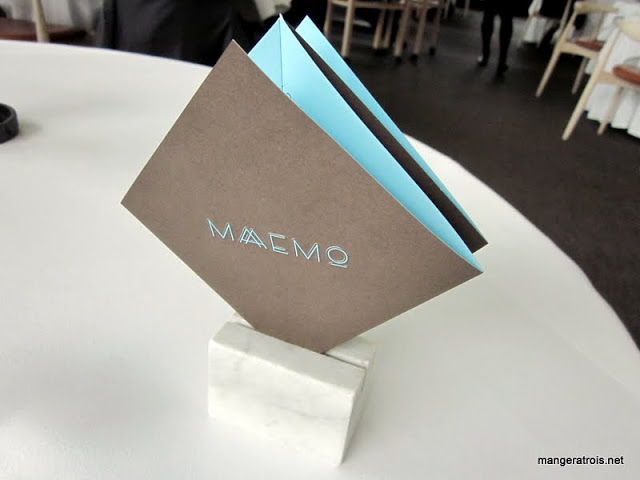 Once our first (of three) servers came over, Lance got an English menu for me and we were given little marble blocks to keep our menus in.  Apparently these are blocks leftover from the Opera House construction.  (After Lance asked for the English menu, all of the course descriptions from our servers were in English which was quite a relief for Lance who had been worried that he'd have to translate everything for me!)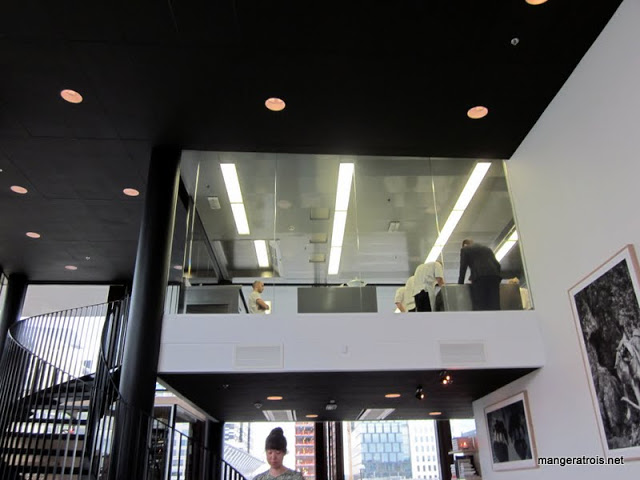 I'm pretty sure we had the best seats in the house.  Our table gave us a perfect view of the kitchen above and we could see the chefs working hard throughout the meal.  I was even able to see the saucier taste sauces!  Super neat!  This picture also shows the spiral staircase that our servers had to walk up and down a billion times with their loaded wooden trays of food.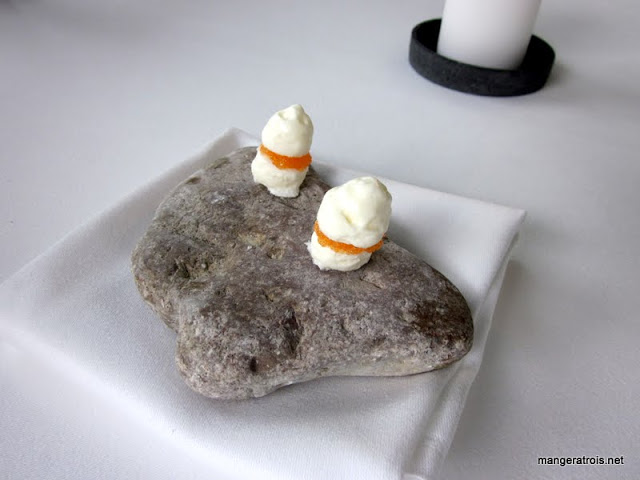 Our menu listed nine courses, but it neglected to note the other nine "tastes" we'd be getting before and after the nine listed courses.  This was the first of those 18(!!) courses.  These were little cream cheese (called nýr) and fish egg bites.  They were served on a frozen rock so the very bottom layer of the goat cheese was solid while the rest was creamy.  The cheese was wonderfully tangy and the roe burst in our teeth.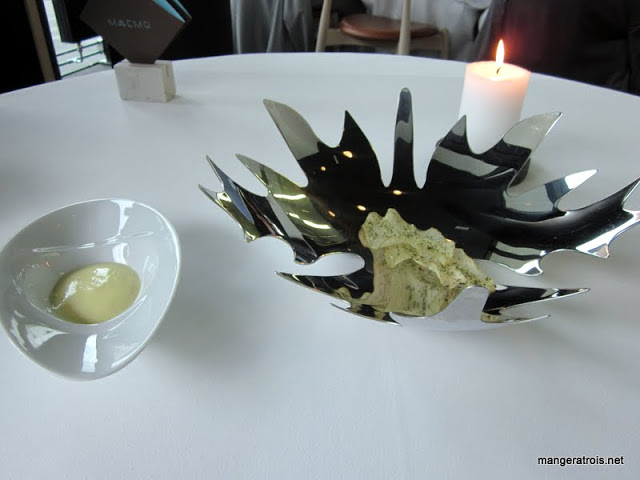 Our second course was the thinnest potato chips I've ever seen.  They were served with a warm aioli that was rich and eggy.  We tried to scoop as much of the sauce as possible onto each of our chips, I would have licked the bowl if there weren't other people around.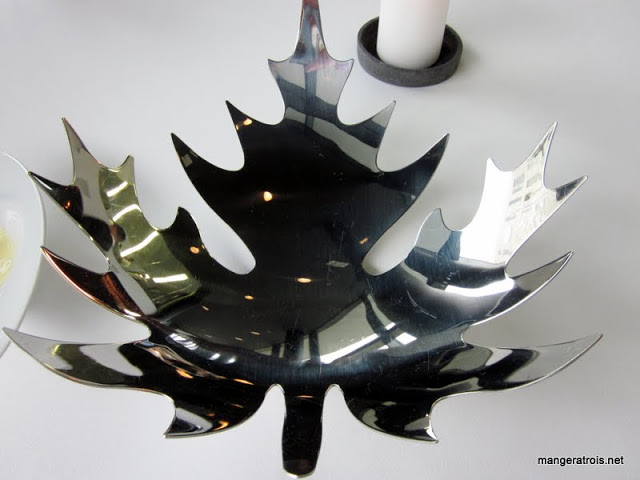 The chips were served in this metal maple leaf.  All of the dishes of the meal were impressive and unique and I think all of them had some aspect of nature incorporated into them.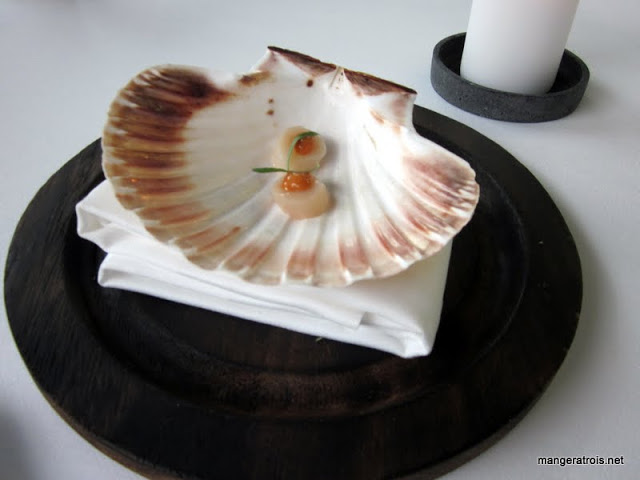 Our third course was little teeny scallops with a teenier dollop of fish eggs and a leaf of tarragon.  It was served in a scallop shell.  This was another delicious bite and the roe was much larger than the roe in the first dish, so we got even bigger bursts in our teeth!  The dish came to us under a glass cloche filled with wood smoke to remind us of the woods.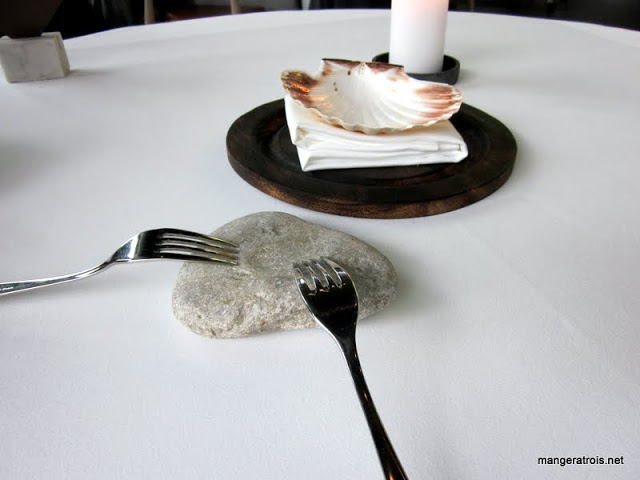 We had forks for the scallops, the first silverware of the meal.  I'm sure you noticed there was none waiting for us when we were seated, every single course came with its own silverware.  This turned out to be a good thing, since we never needed to try to figure out what to eat each course with – we just used whatever silverware we'd been delivered right before the course.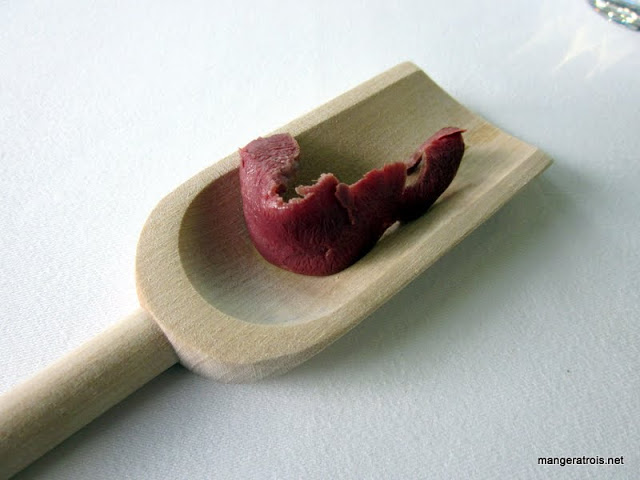 Our fourth course was smoked reindeer heart.  The server brought out the large piece of meat and carved off a slice for each of us at the table.  It was served in little wooden spoons.  We both felt that this tasted a lot like prosciutto or bacon, or some other smoked meat.  It was tender and tasty.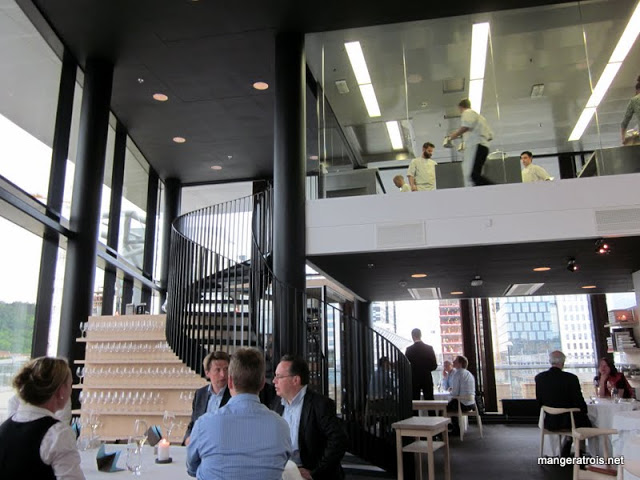 Here is another picture of the kitchen and shows the dining room a bit more.  There was table space for around 30 diners and there were about 25 in the restaurant when we were there.  (And only five women, which was surprising to me.  Blue shirts with or without jackets were a popular choice for the men.)  On the left side of the picture, you can see the wall of glasses.  It was fun to watch the glasses diminish as the meal went on.  The serving was staggered, so we weren't all getting the same course at exactly the same time.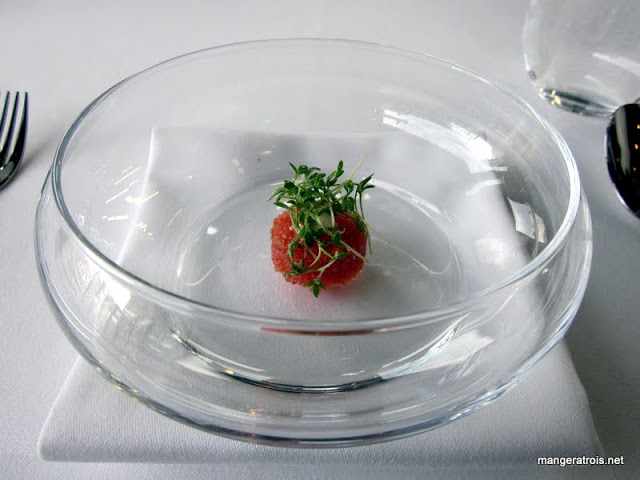 Our fifth course featured even more roe!  My notes for this say "roe w/ green stuff" so I'm not sure exactly what the leaves are.  This roe was even larger than the previous two types and equally delicious.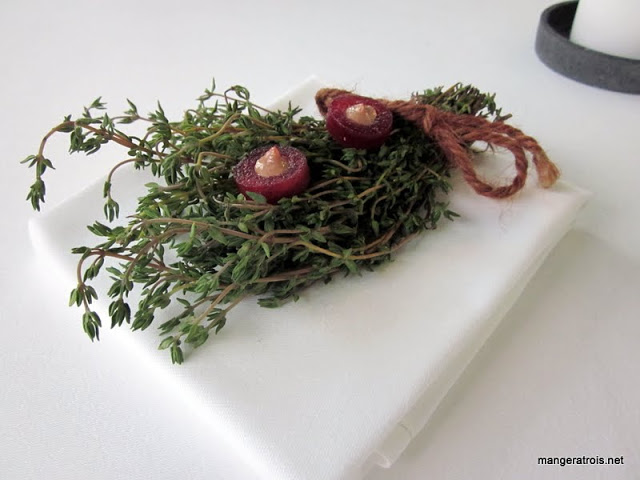 Our sixth course was braised apples with chicken pâté served on top of a bundle of thyme.  This was a neat reversal of the foie gras I've gotten in recent restaurant trips which is normally served with some sort of fruit component.  Here, we got the braised apple served with a bit of the pâté instead.  The two ingredients paired super well.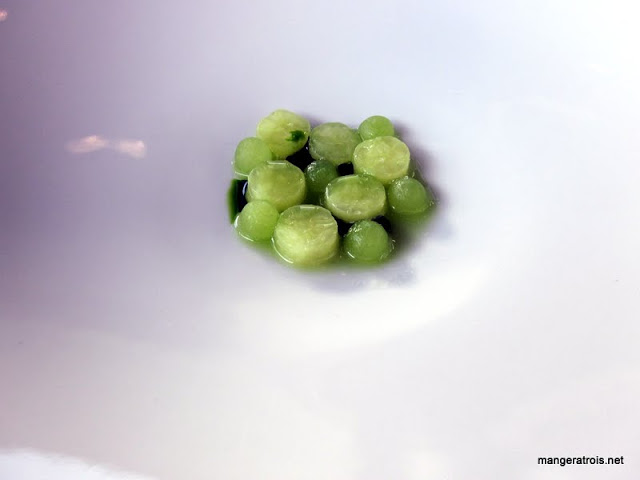 For the seventh course we had Norwegian cucumbers with a mackerel infused sauce.  I thought they looked like green grapes.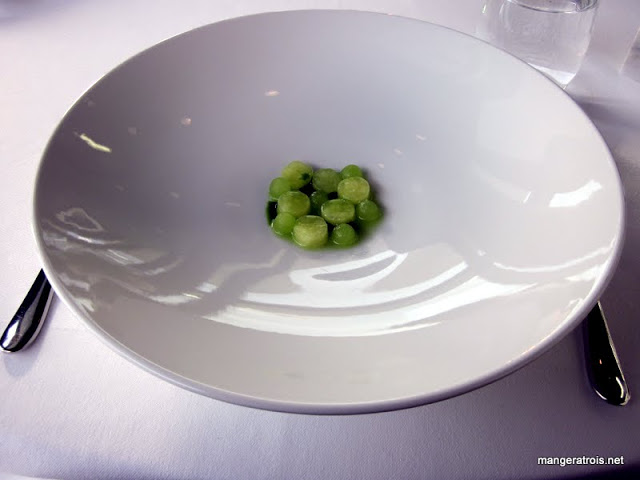 It was served in a huge bowl and the sauce definitely tasted of fish.  Very strange combination of flavors, but it was quite tasty.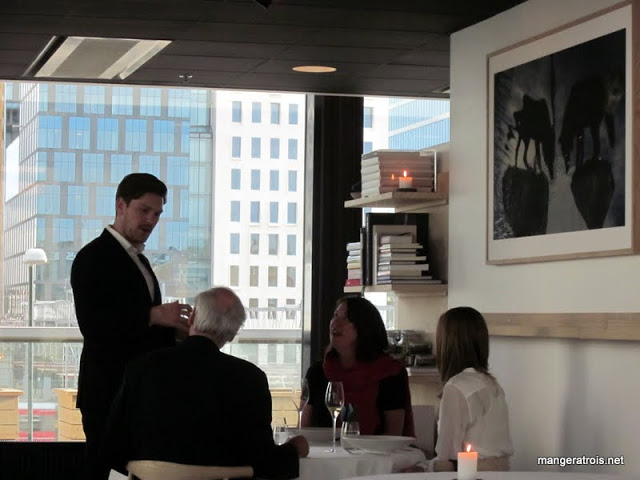 The restaurant had a little bookcase that looked like a shrine to Modernist Cuisine.  I had to take a picture of it.  If we could have seen through the buildings out of that window, we would have seen the swarming Justin Bieber fans.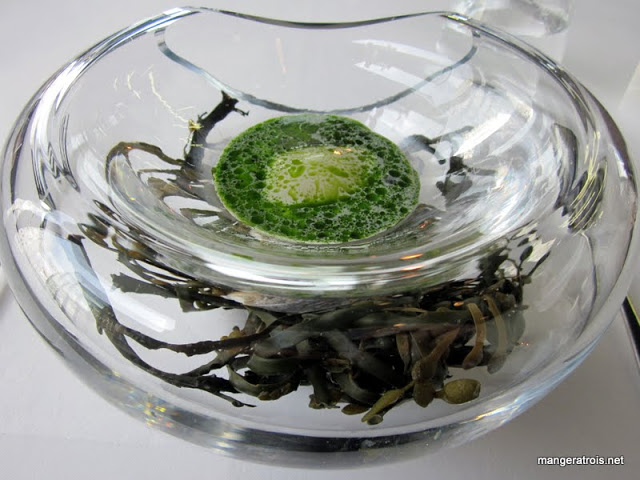 Our eight course was fascinating.  It was some sort of thin disk of oyster that had somehow been emulsified and then sauced tableside with a horseradish and dill cream sauce.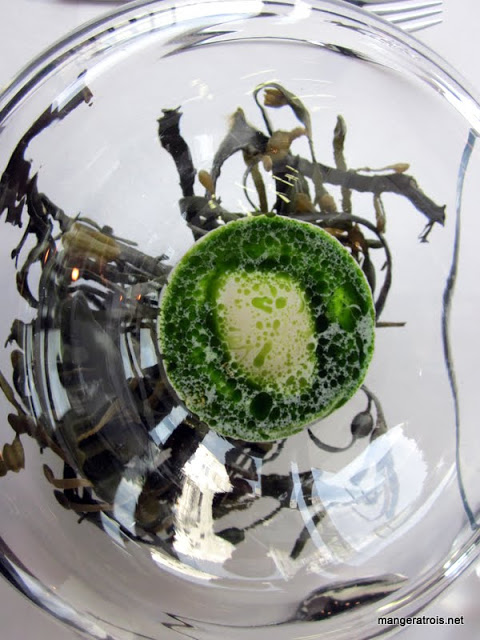 The oyster had a wonderful natural sweetness to it.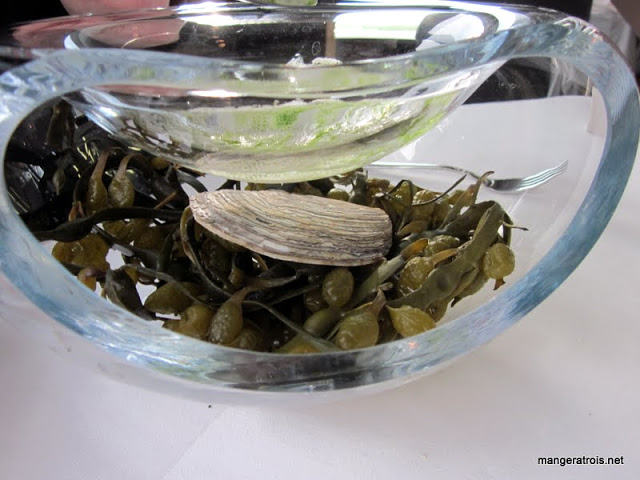 And it was served in this strange bowl that was hollow and filled with an oyster shell and seaweed.  It was beautiful and scrumptious.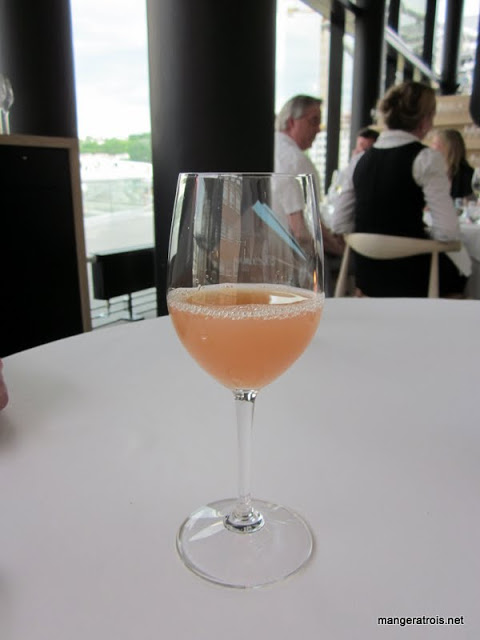 Since that wrapped up the "tastes," Lance was delivered his first drink.  This was apple and plum juice.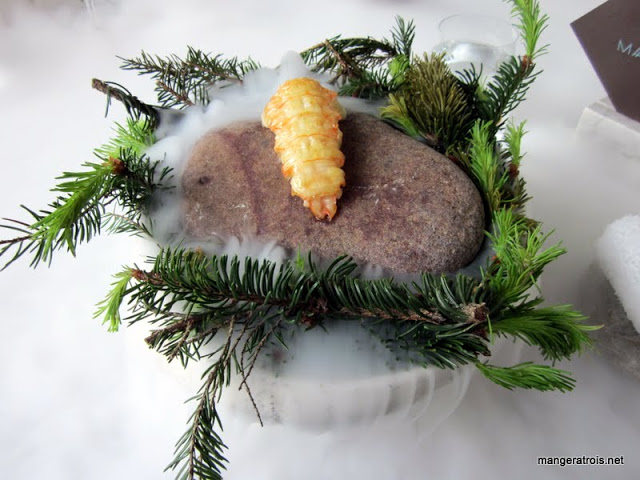 Our ninth course, the first course listed on the menu, is a Maaemo classic called Last Year's Spruce & Langustine (Gran Fra I Fjor & Sjøkreps).  This is the most dramatic dish I've ever been served.  From the top down, there was a langoustine with a sweet apple sauce drizzled over it, served on a rock, which was on top of a bed of spruce branches, which was then in a bowl that must have had dry ice in the bottom.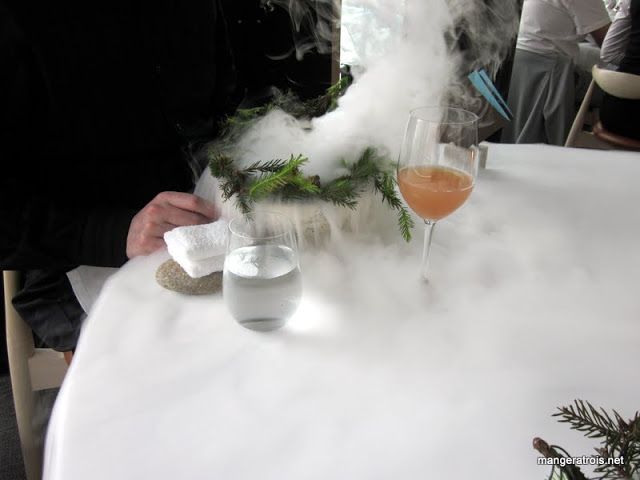 The server poured water into the bowl after placing it on the table which caused smoke to pour out over the entire table surface.  It was gorgeous and just plain fun!  We were instructed to eat with our fingers and given a wet towel to wipe our hands with during the course.  The sweetness of the sauce was great and even though I'm not a lover of seafood, I ate every bite and proceeded to lick my fingers too.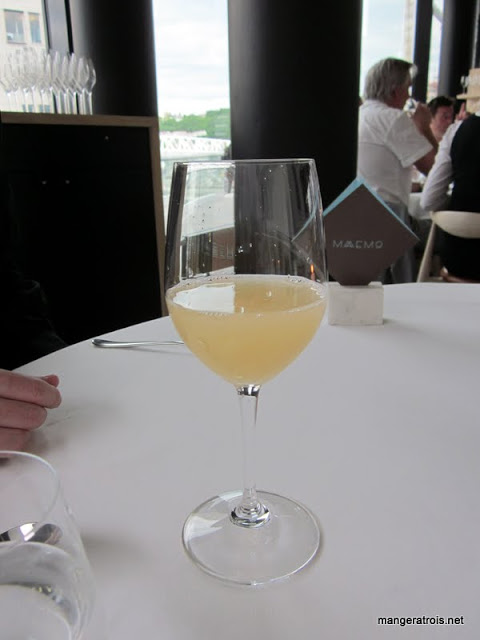 Lance's second drink was apple.  I had a teeny sip and it seemed almost like apple cider. 
Our tenth course, the second from the menu, was named Ramson (Ramsløk).  Since being home, I've learned that these are known as ramps as well.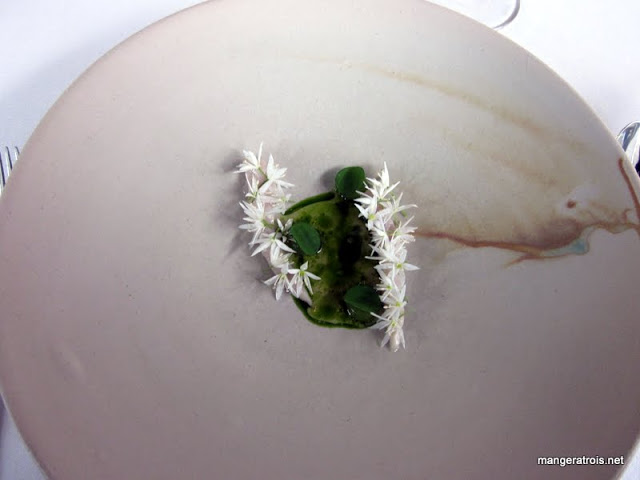 This was Lance's plate.  The white flowers are ramson flowers and they're covering little slices of mackerel.  Due to natural variations, sometimes our plates were complete different in coloring.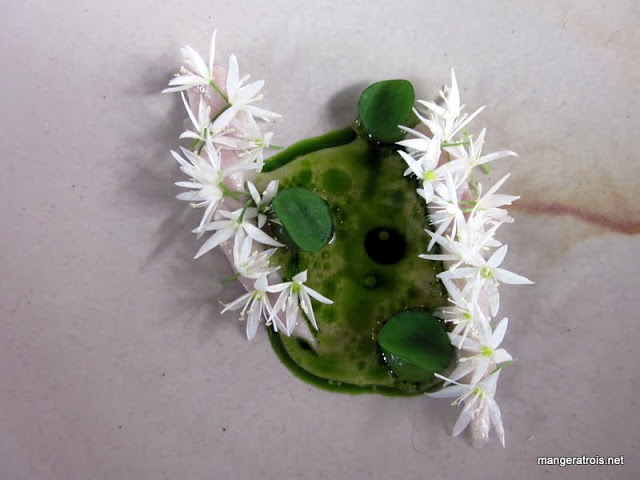 The green rounds were ramson leaves and I'm not sure what the sauce was, it was nice and vinegary.  I really enjoyed this dish and the delicate oniony flavors. 
Next we were given a placemat of parchment, a wooden knife, and a little crock of butter.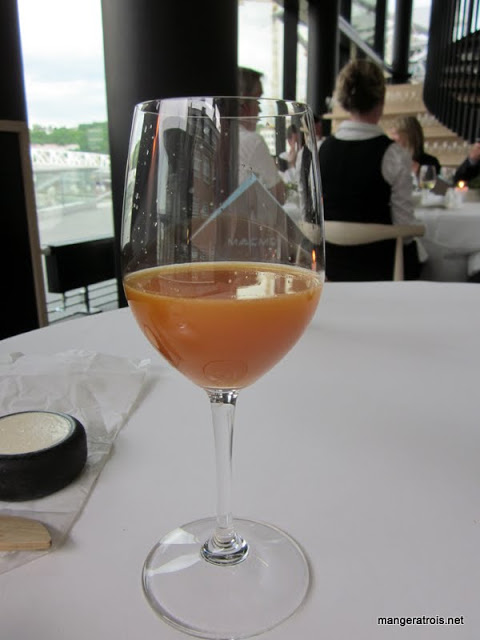 Lance was delivered his third drink which was something like a tomato juice made from rose hips.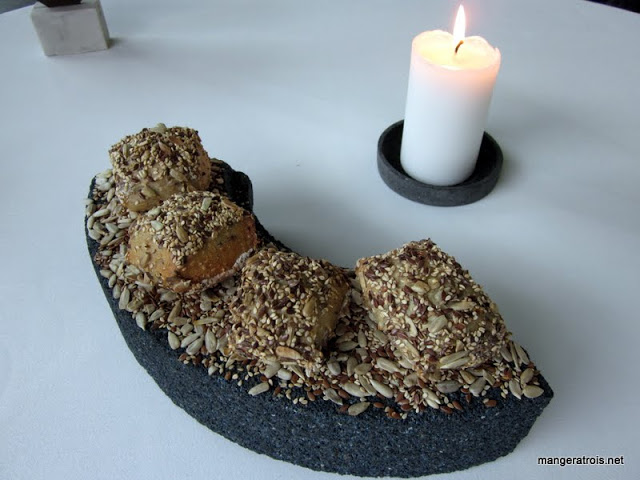 Then our eleventh course was brought out and we understood the need for a placemat!  This dish, the third on the menu, is named simply Wheat (Hvete).  The menu names weren't very informative, eh?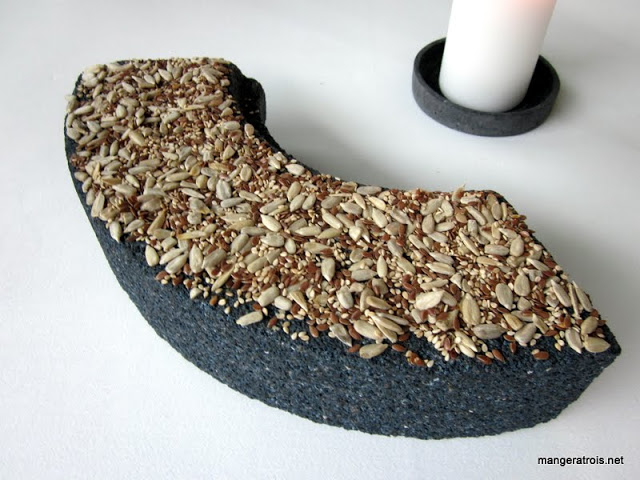 The little rolls were served to us on this seed covered mill stone and the seeds included sesame, poppy, flax, and pumpkin.   We ate these little rolls with the whipped salted butter from Røros.  The warm rolls are made from wheat, spelt and emmer flours and the bread had a slight sourdough taste to it.  It was fun to see this dish come to larger parties since it was delivered on larger sections of mill stone.  The butter was so light and airy.  If society hasn't taught me that eating butter plain is wrong, I would have scraped the crock clean.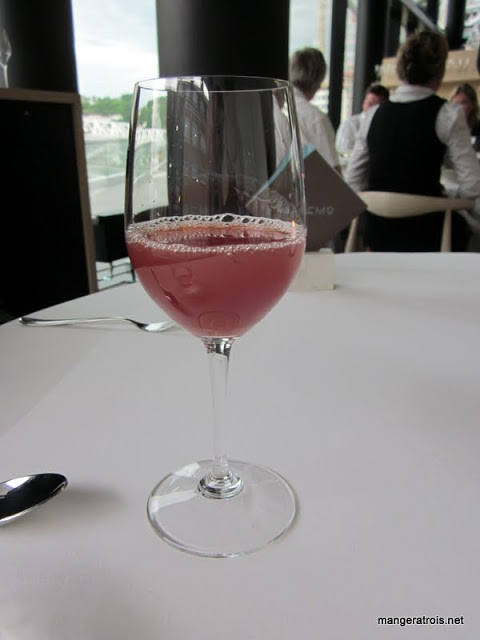 Lance's fourth drink was cranberry and mint.  Yum.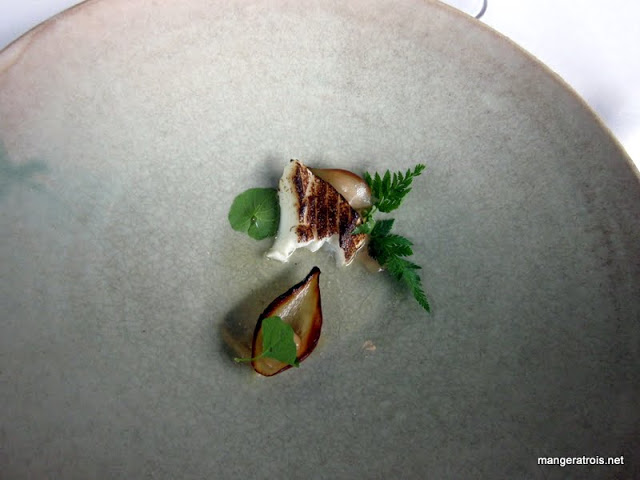 Our twelfth course came to us on huge plates and, sadly, we started eating it before I remembered to take pictures!  Luckily Lance hadn't eaten too much, so he was able to take this picture.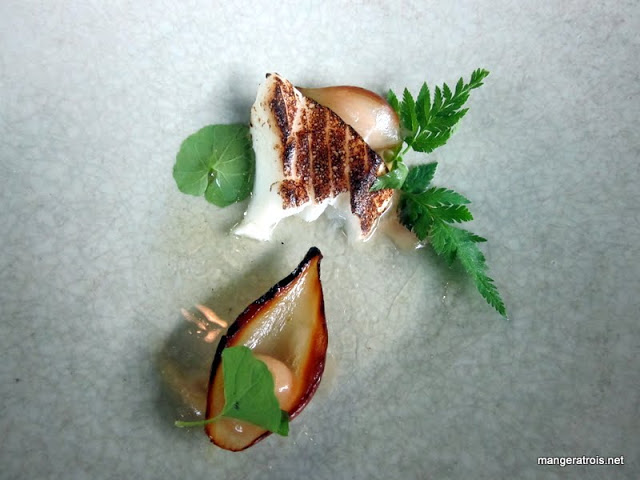 And this one too.  This dish, the fourth on the menu, was called Burned Northern Halibut (Brent Kveite).  It was served with onions that had some sort of gel inside and was very flavorful.  Flavorful enough that we almost forgot to take pictures!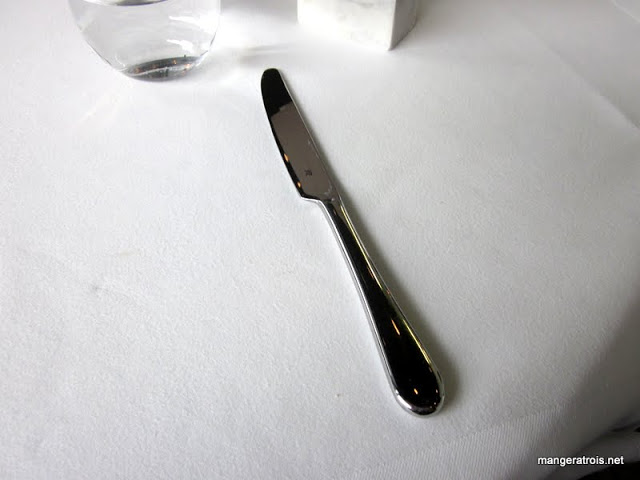 Our first knife!  This was kind of a big deal.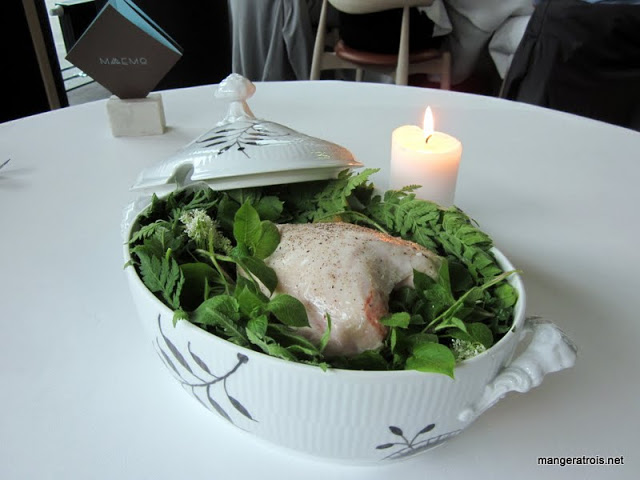 At this point, our server brought out a chicken and told us a bit about it.  The chicken is surrounded by the flora of Oslo.  We said hi to it before it was returned to the kitchen.  Then we made a number of jokes about the "demo chicken."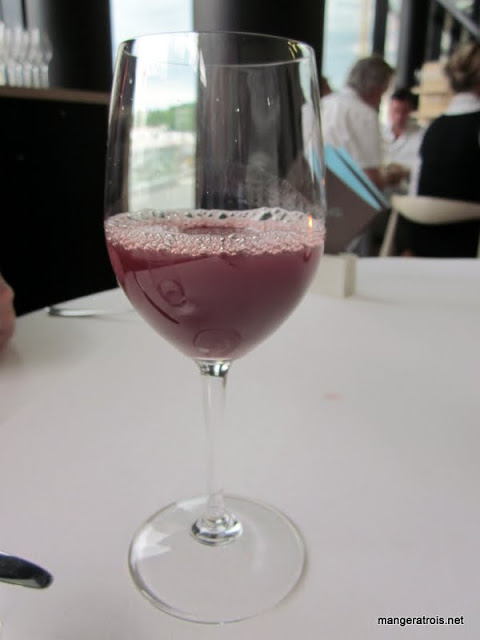 Lance's fifth drink was apple and red currant.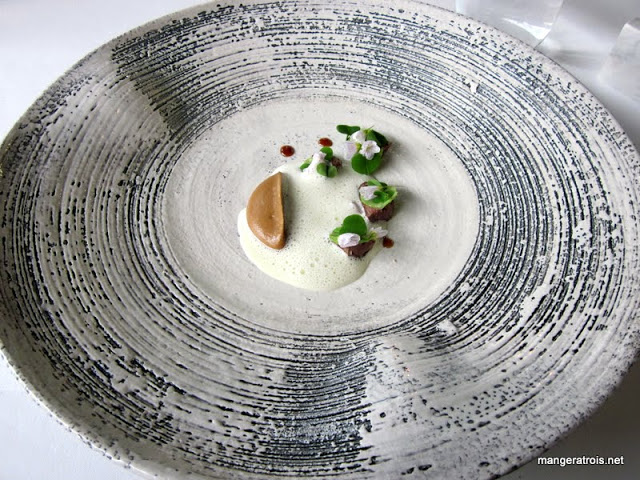 Our thirteenth course, the fifth on the menu, was named Cabbage & Caramelized Onion (Kål & Karamelisert Løksaft).  The bowl for this dish was especially lovely!  It included a cabbage puree, chicken heart, and was topped with ramson cream as well as some leaves and flowers.  It was fantastic.  I can't believe I ate heart twice in this meal and loved it both times.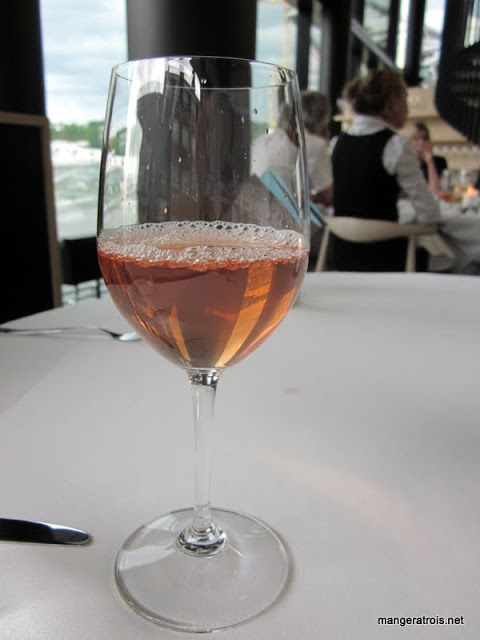 This was Lance's sixth drink and neither of us can remember what it was!  I think it might have been straight cranberry juice, but even after the meal we couldn't recall.  Clearly I need to start taking notes while at the restaurant.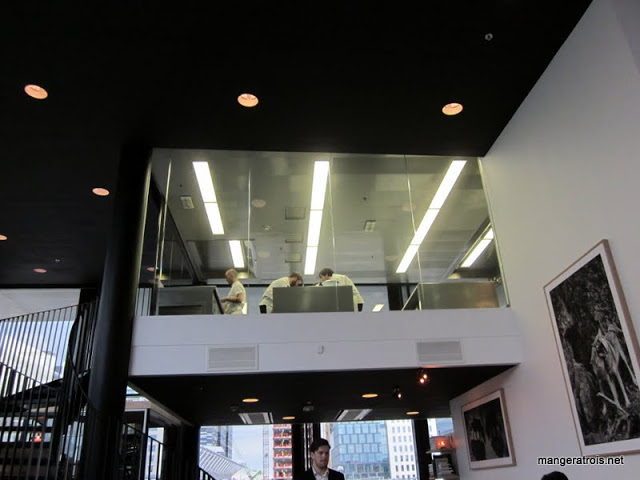 Here's another picture of the kitchen.  You can kind of see the demo chicken pot on the front right corner of that middle table.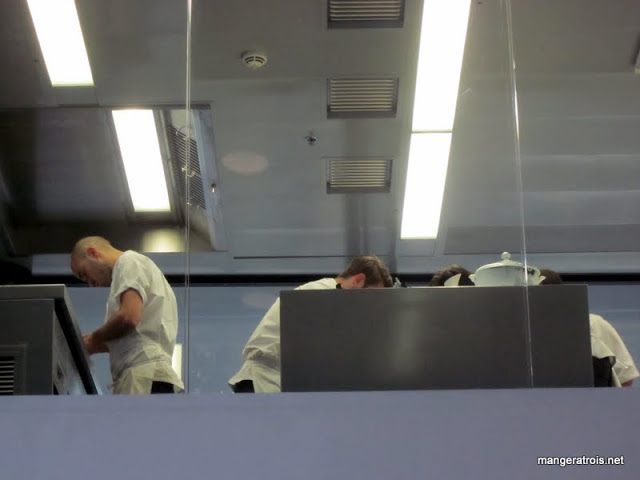 You can see it even better here!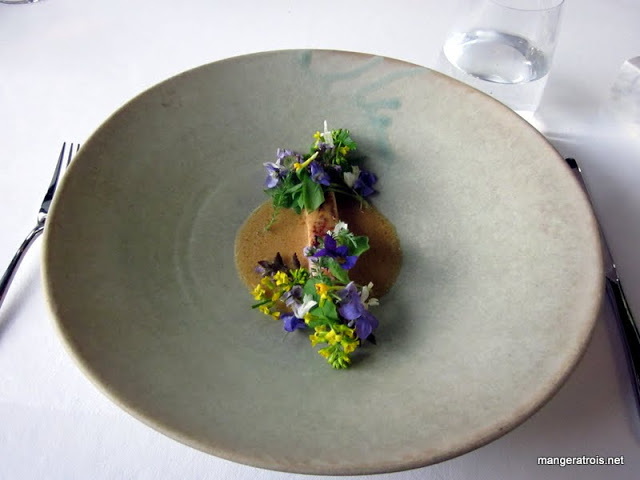 And speaking of chicken, we finally got to eat the chicken in our fourteenth course.  This course, the sixth on the menu, was named The Flora of Oslo (Skogens Flora Akkurat Nå).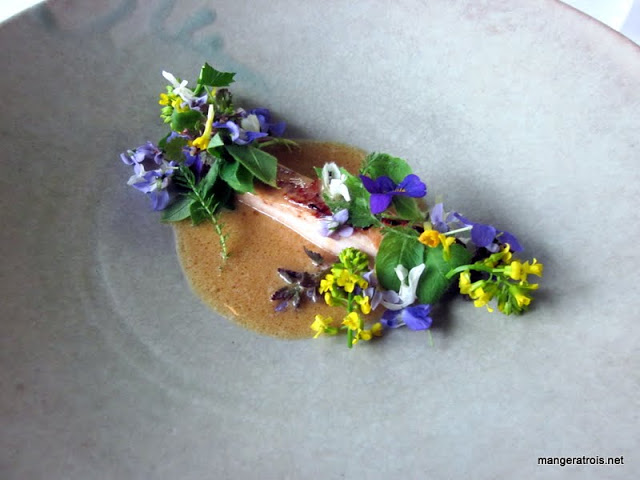 This dish was gorgeous.  All of the flowers were edible and it was topped with a stock cream sauce.  (The sauce was added tableside by our server, as all of the sauces were throughout the meal.)  The variety of flowers meant that every single bite was new, exciting, and completely different than the bite before.  The chicken was tender and juicy.  I loved this dish a lot.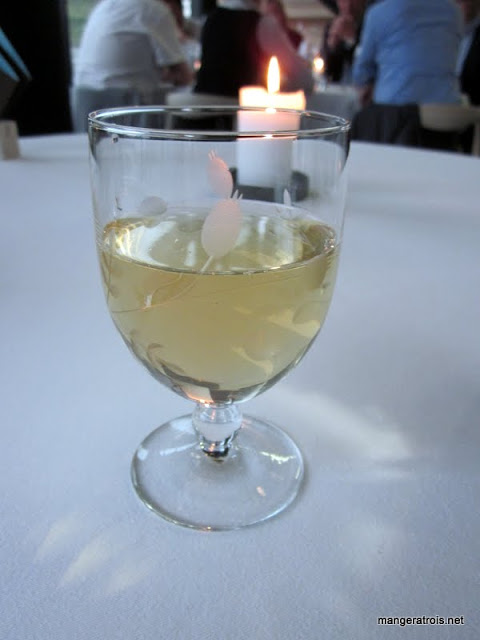 We actually both got the seventh drink which was Small-Leaved Linden Cold Brew (Lendeblomst).  I thought this tea was quite nice and reminiscent of a green tea.  It left my mouth feeling dry.  Lance didn't care for it much.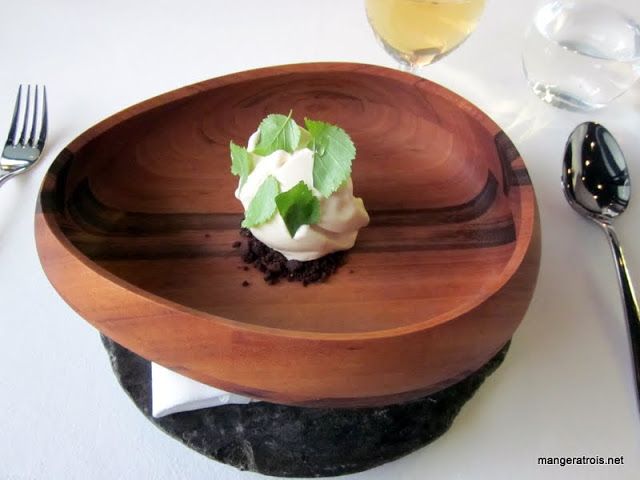 Our fifteenth course was the beginning of the dessert courses.  This course, the seventh on the menu, had the enlightening name of Birch (Bjørk).  It came in a pretty wooden bowl set on top of a stone.  The leaves were birch leaves and the stuff that looks like dirt underneath the ice cream had a distinctly chocolate flavor.  The ice cream itself tasted sort of the way a popsicle stick tastes when you lick it.  I enjoyed it, but I pretty much love all ice cream.  Lance wasn't super thrilled by any of the dessert courses.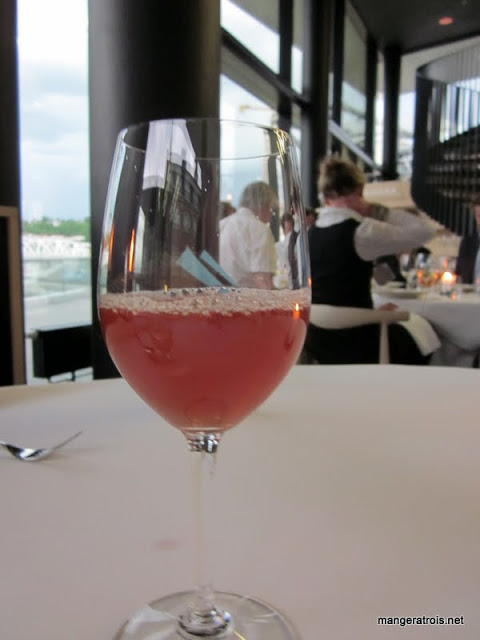 Lance's eight drink was strawberry and rhubarb!  It was tasty. 
Our sixteenth course, the eight on the menu, was Rhubarb (Rabarbra & Geitemelk).  Clearly the English name is lacking because it left off the goat milk part that the Norwegian contains!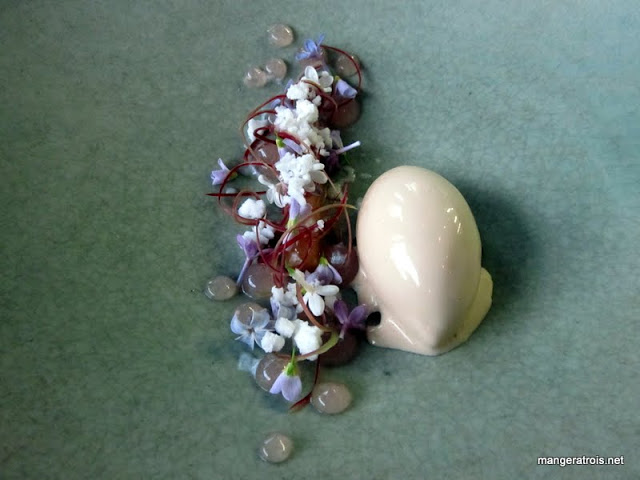 This dish had little rhubarb gel blobs, flowers (which I assume are related to rhubarb somehow) and a piece of rhubarb that had been cooked somehow underneath the flowers.  The ice cream was made from goat milk and rocked, it helped to temper the bitterness of the other components.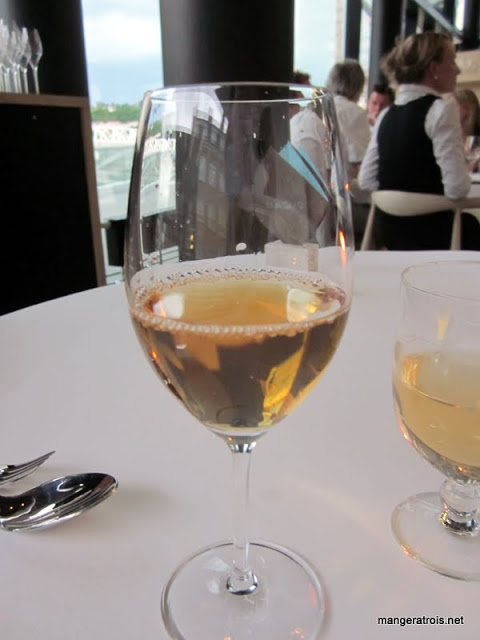 Lance's ninth, and last, drink was maple.  It actually tasted like maple syrup with the consistency of water.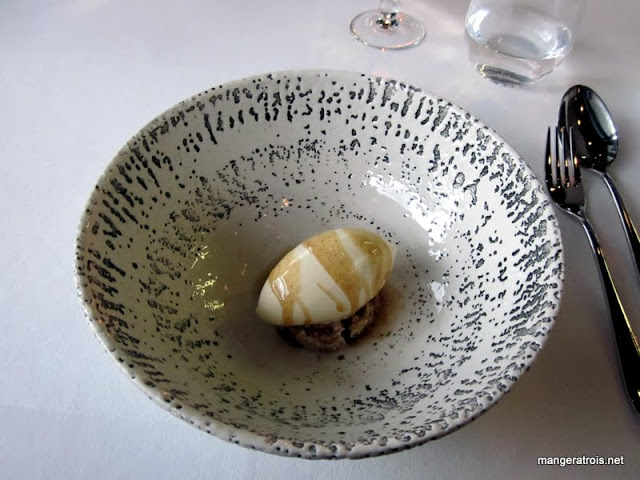 Our seventeenth course, the ninth and last on the menu, was named Butter From Røros (Smør Fra Røros).  Strange name for a dessert, right?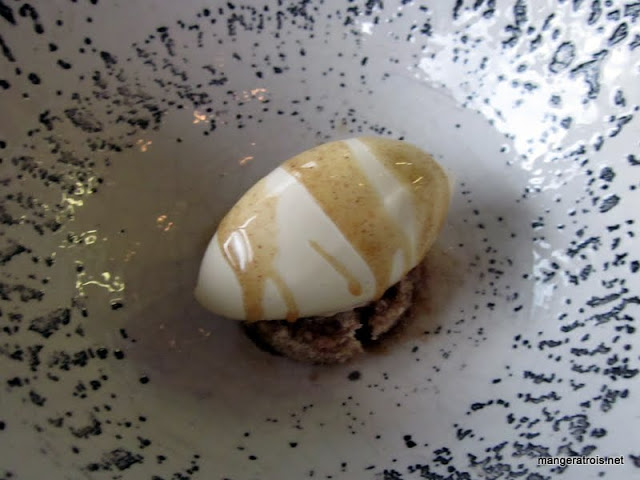 This was, hands down, the best dessert I've ever had in a restaurant.  The ice cream was made from butter, served on top of a shortbread type hazelnut butter crumble, which was topped with a dollop of buttery molasses, and then a warm brown butter sauce was spooned over top.  It was served to us in stages.  First we got the bowl with the butter crumble in it.  Then a chef spooned out a perfect quenelle (with one spoon!) of ice cream on top and then our server spooned the brown butter on top of that.  The brown butter hardened like Magic Shell.  It was astounding.  Rich, creamy, buttery, perfection.  This is yet another bowl I would have licked clean.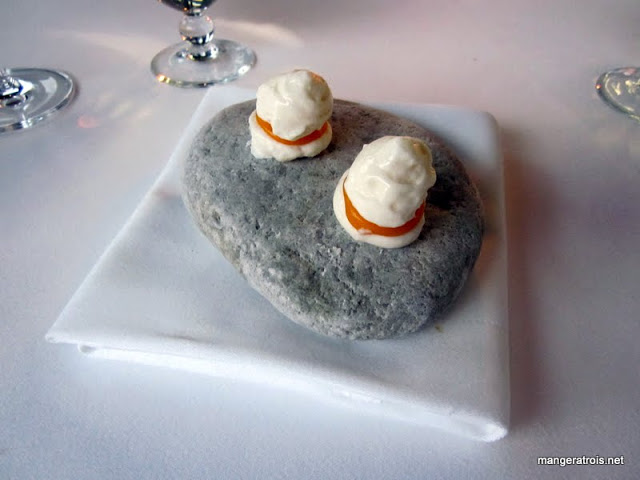 Our eighteenth and final course wasn't on the menu, but it took us back to where we started.  This time we were given something that tasted like an orange creamsicle.  The orange in the middle this time was orange gel and I'm not sure what the white stuff was.  Like the first time around, this was served on a freezing cold rock and we ate it with our fingers.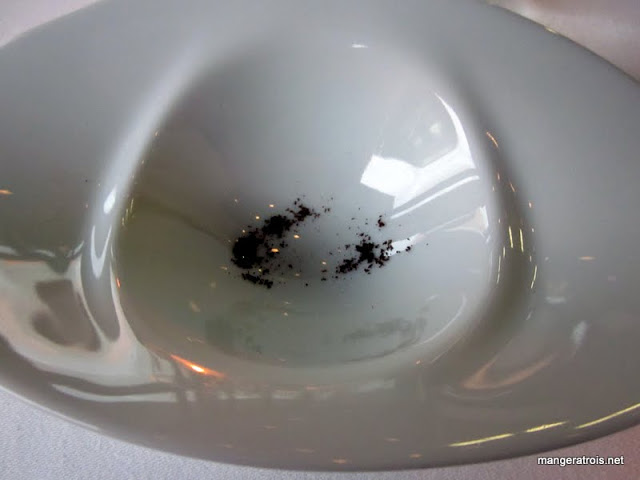 It also came with a thing that looked like a chocolate truffle, but I forgot to take a picture of it before I ate it.  Just imagine a chocolate truffle ball here.  This was… interesting and we were told to pop it all into our mouth at once.  The reason is that it wasn't a chocolate truffle at all, but a watery, liquid center of caramel surrounded by a hard coffee shell.  It was quite strong and I had to drink a bunch of water to get all of the coffee flavor out of my mouth!  Art would have loved this and, if he had been with us, I would have given him mine to make up for all of the fish. 
We were given a little Maaemo branded paper goodie bag to take along.  It included a copy of the menu as well as a baggie of honey candies.  Those were brought home for Art so that he could have a little taste of Maaemo too. 
And that brings this review to a close.  Eighteen courses of awesome along with phenomenal service and ambiance.  The meal was extremely well paced and took a little over three hours.  We never felt rushed and could see the chefs looking down on us to check our progress from time to time.  The restaurant felt very relaxed and comfortable, the servers were clearly knowledgeable about the food they were delivering to us, and it was like a well choreographed and rehearsed dance of trays going up and down the spiral staircase while the chefs prepared delights for us above.  If I'm ever in Oslo again, I would not hesitate to return to Maaemo.  Not even for a second. 
Total price, which was delivered to us on another folded brown and blue piece of paper:  2970 NOK (at the time of posting that's about $500 USD)
Maaemo
Schweigaards gate 15B
0191 Oslo
Phone: 919 94 805