On our fifth day in Williamsburg, we decided to do something slightly different for lunch.  We stopped by The Cheese Shop, which is owned by the same folks who own the previously visited Fat Canary, and got a cheese plate to go with our sandwiches.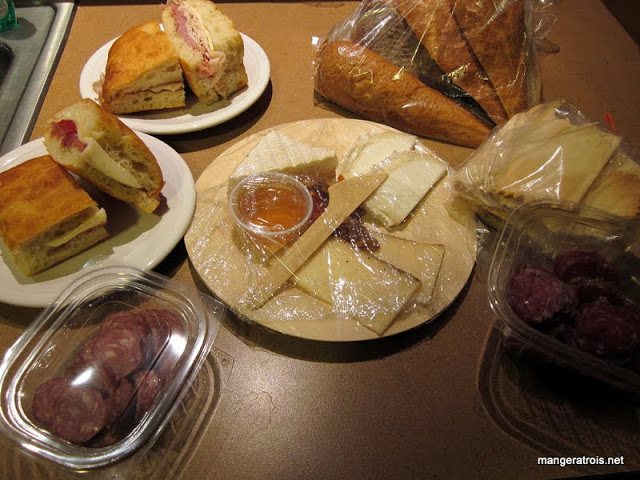 The woman who set up our cheese plate was pretty amazing.  She asked about our likes and dislikes and then asked if we trusted her.  We told her "we pretty much like everything except blue cheese" and she ran with that to set up a great selection.  It came on a thin bamboo plate with a bamboo knife, a small container of honey, and some dried fruit.  We also got some plain crackers and bread ends as well as two different types of salami. 
Thankfully our cheesemonger wrote down the names, and descriptions, of the cheeses, so I'm able to share them with you here. 
Robiola – sheep and cow soft-ripened cheese from Italy.  This was lovely, rich, and creamy.  I think it was my favorite of the cheeses. 
Bucheron – aged goat cheese from France.  This was a very dry cheese that went quite well with the honey and crackers.  It was probably my least favorite of the three but that doesn't mean I didn't like it since I loved all of them! 
Bellavitano – Wisconsin cheese made in Italian style with pepper.  This was another lovely creamy cheese and my second favorite of the three.  The pepper added a nice touch! 
We also each got sandwiches (we basically grazed for a few hours while playing board games) and I won the sandwich battle this time.  Art got the Combo which had turkey and Virginia ham.  I got the Prosciutto on Focaccia with provolone and roasted tomatoes. 
The only downside of The Cheese Shop was that the people making sandwiches were unable to tell me what was in the famous "house dressing" so I had to skip it just in case there was HFCS lurking.  Otherwise, this was an awesome food experience and I'm now excited to visit the cheese shop (Cheesetique) located near one of the movie theaters we frequent.  I'll give them my list of cheeses I've tried and keep track so I only get new cheeses! 
(I was also sad that the cheesemonger gave me a blank stare when we asked about "charcuterie."  If a word is on the website, you'd think that the employees would know what it was!  But this is a very minor nitpick.)
Total price: $61.66
The Cheese Shop
410 W Duke of Gloucester St
Williamsburg VA
Phone: 757.220.0298