Ingredients
1 pork loin
3 cloves garlic, cut into  slivers
Salt and ground pepper
4 tablespoons unsalted butter
3 tablespoons shallot, minced
1⁄2 cup chicken broth
3 tablespoons Dijon mustard
1 cup heavy cream
3 tablespoons fresh tarragon, chopped
Instructions
1. Heat oven to 400*F. 
2. With the tip of a sharp knife, cut slits all over the pork loin.  Insert the garlic slivers into the slits then season the meat well with salt and pepper. 
3. Roast until meat reaches 135-140*F, about 55 minutes.  Transfer to cutting board, tent with foil, and let rest while preparing sauce. 
4. Melt butter in skillet over low heat.  Add shallot and sauté until soft, about 5 minutes.  Add broth and cook until almost completely evaporated, about 5 minutes.  Whisk in mustard and cream and simmer until sauce thickens slightly, about 5 minutes.  Stir in tarragon and season with salt and pepper. 
5. Slice roast into thin slices and serve with sauce.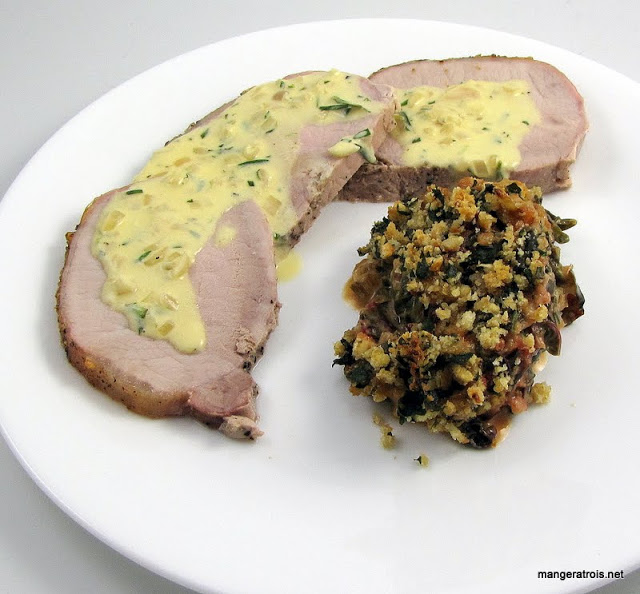 Comments
This recipe is from epicurious.com.  The meat was tender and juicy, the sauce was reminiscent of Béarnaise.  Very tasty and light. 
Shown here with Chard Gratin.